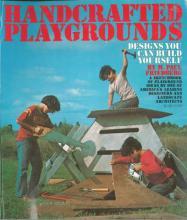 The book Handcrafted Playgrounds – Designs You Can Build Yourself was written by M. Paul Friedberg, one of America's leading designers and landscape architects. It was published in 1975 by Vintage Books, a division of Random House. The book is a sketchbook of designs based on the premises that anyone can build a playground and that the actual process of the building can be as important as the finished product.
Handcrafted Playgrounds suggests that children should be included in the designing and building activities to allow for their chance to create an environment suitable to their needs. The book has a wide range of designs with varying degrees of difficulty to build. A tire swing that requires only knot tying of ropes or cables can be a simple project compared to a more complex wood structure that requires power tools and some building skills to accomplish.
The building materials suggested in the designs can be easily found or inexpensively purchased. Lumber, old tires, barrels, ladders, concrete block, and pipes are used in many of Friedberg's designs. One of his goals in writing this book is to show that building a playground need not be expensive to accomplish.
The book explores three major categories of play and the importance of including opportunities for all three types of play in playgrounds. They are: physical play, the development of motor skills; social play, the interaction between children; and cognitive play, the problem-solving process.
Physical play elements should include challenge and testing. Children are constantly challenging their physical abilities and discovering their strengths and limitations, and the playground should include challenging elements to keep their interest. Scaling the physical elements of the playground to the children's sizes, the play area should provide equipment that allows them to climb, swing, slide, jump, crawl, and run to find out how high, far, and fast they can go. Friedberg suggests that children rarely overextend themselves when involved in an activity that may require some risk taking.
Social play can involve role playing, interaction, and cooperation, all which can be explored on a playground. A log might become an airplane, a car, a ship, or a horse, which leads to pretend play that stimulates children's imagination. Different sizes of enclosures or platforms encourage interaction as well as some elements, such as a tire swing, could encourage cooperation for children to work together to play successfully.
The problem solving choices of cognitive play allow children to make decisions and test out their consequences in a controlled environment. These opportunities for using their creativity in the design of the playground provide great learning experiences for children to test out their ideas and arrive at innovative solutions.
Suggestions about the design of the playground include considerations about linking elements together, juxtapositioning play elements to reinforce the activities of each, and making the playground have multi-uses for many possibilities of play. An Activities Matrix is given showing play elements and the associated physical, social, cognitive, and general activities that can be enjoyed on them. There is also a scale drawing of children aged 3, 6, and 9 to aide in the design of the playground to accommodate children's sizes in reaching, sitting, and stepping.
Most of the book contains easy to read drawings of playgrounds using a myriad of materials including ladders, poles, logs, lumber, nets, drums, tubes, tires, spools, and canvas. Some of the construction pieces include stepping columns, tree houses, slides, swings, seesaws, bridges, sandboxes, planters, benches, and bike racks.1
1. Friedberg, M. Paul. Handcrafted Playgrounds. New York, NY: Vintage Books. 1975.