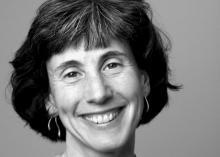 Gwen Gordon is an educational media designer and producer as well as a creative consultant, coach, independent play scholar, teacher, and author. She believes that "playfulness is both the process and the product of evolution," and that "whenever we take the leap into spontaneous free play we catch a glimpse of our unbounded true nature that we share with all creation."1
Gwen began a life of play designing and building Muppets for Sesame Street. She continued exploring play at the MIT Media Lab where she built a furry computer playstation for children and at Tell Tale Technologies where she designed alternative computer input devices.
During this time she was also earning a Bachelor of Arts degree in Art and American Studies from Wesleyan University in Middletown, Connecticut.2 After graduating in 1987, Gwen started her own production company, Creatures at Large, Inc. using her own puppet characters and produced an award winning educational program for children in hospitals.
In 1989, Gwen founded a non-profit 501(c)3 educational foundation called The Big Picture Productions and developed the Big Picture Puzzle, a global community arts program that utilized a large puzzle of the earth.3 Over the next five years, Gwen conducted customized puzzle workshops, created a Big Picture Puzzle kit and produced her first documentary, The Big Picture Puzzle in 1996.
In 1993, Gwen illustrated the book Every Kid Counts: 31 Ways to Save Our Children (Harper/San Francisco) and soon after wrote the activities for a series of five activity books by Lynn Gordon beginning in 1997 with 52 Fun Things to Do at the Beach. She continued with 52 Guilty Pleasures (1999), 52 Ways to Pamper Yourself (2001), 52 Ways to Lead a Balanced Life (2002), and concluded with 52 Ways to Celebrate Life (2003).4 Later she added three more in the series: 52 Ways to Make a Difference, 52 Tokens of Affection, and 52 Things to Try Once in Your Life.
In 1999, Gwen also became an artist in residence for a year at the Xerox Palo Alto Research Center in California where she partnered with an information scientist to explore the nature of innovation. Soon after she continued her research as a graduate student and in 2004 received her Master's degree in philosophy with a focus on play from the California Institute for Integral Studies in 2004.
While still a student Gwen served as the education director for The Institute for Deep Ecology where she created a summer leadership program and was a regular guest teacher at Spirit Rock Meditation Center, the Buddhist center founded by Jack Kornfield.
Upon graduating Gwen creative directed and wrote the multiple Emmy Award winning pilot for PBS' Kids, Cash, & Common Sense and led the team producing an extensive interactive study guide for the film What the Bleep Do We Know?!, in 2005.5 Gwen co-designed and taught the mastery level coaching course Come Alive: The artful play of coaching for the Coaches Training Institute and then began leading their Co-Active leadership training. She continued as a design consultant applying her insights about play in the curriculum for the Global Oneness Project (2009), then for the course for the Story of Stuff Project (2010), followed by The Shift Network! Course with Barbara Marx Hubbard (2011), and most recently with a screen guide for THRIVE! also in 2011.
During this time she also spent a year consulting for the innovation design firm, IDEO as the lead designer of a training course for TSA airport security officers. She helped create a more humane experience for passengers at airport checkpoints.6
Gwen has continued studying play as an independent scholar/practitioner, writing articles including Play: The Movement of Love (Earthlight, 2003), Born to Play (Offerings, 2004), Free Fall (Tricycle: The Buddhist Review, 2005), Are We Having Fun Yet? (The AQAL Journal for Integral Theory and Practice, 2006), Integral Play: An Exploration of the Playground and the Evolution of the Player (the Journal for Humanistic Psychology, 2007), and What is Play? Toward a Universal Definition (Play and Culture Studies, 2007).7
Gwen has also taught transpersonal play to graduate students at the Institute of Transpersonal Psychology in Palo Alto, California, Holy Names University in Oakland, California, the University of California at San Francisco, and John F. Kennedy University in Pleasant Hill, California. She is a regular guest teacher at Spirit Rock Meditation Center in Woodacre, California.
To convey the vital importance of play to a wider public, Gwen is producing and directing her first feature-length film, SERIOUSLY! The Future Depends on Play! and hopes to turn it into a six part series called NOW Playing! By highlighting international examples of play practices and ideas that are making a difference and through interviews with a broad spectrum of professionals, including play experts like Isabel Behncke , Sergio Pellis, Stuart Brown, and Marc Beckoff, Gwen is illuminating "the power of play to generate health and restore sanity to our world."8
1. "Core Ideas." Gwen Gordon. < http://www.gwengordonplay.com/core_ideas.html > 4 May 2012.
2. "gwen gordon." Personal correspondence to Playground Professionals. 19 April 2012.
3. "About Gwen Gordon." Gwen Gordon. < http://www.gwengordonplay.com/about2.html > 4 May 2012.
4. "Print & Video." Gwen Gordon. < http://www.gwengordonplay.com/print_video.html > 4 May 2012.
5. Op.cit., "About Gwen Gordon."
6. Op.cit., "gwen gordon."
7. Op.cit., "Print & Video."
8. "About the Film." Seriously! The Movie. < http://seriouslythemovie.com/about/ > 19 April 2012.