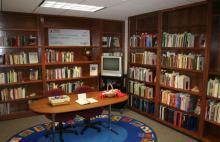 The Frost Play Research Collection was dedicated in the spring of 2004 with the purpose of making available historical and contemporary research material for students and play scholars. The collection, awarded to the University of the Incarnate Word by teacher, researcher, and author, Dr. Joe L. Frost, is comprised of materials from his extensive research library and donated material. Support facilities and equipment are provided by UIW's Mabee Library. The Collection is supported by the Joe and Betty Frost Endowment, and contributions by public and privategroups such as the International Play Equipment Manufacturer's Association (IPEMA).
This growing collection of play and related research materials includes:
Hundreds of cataloged books, journal volumes, reports, video recordings, and other materials, many which are rare and/or out-of-print
Collections of Dr. Frost's correspondence, manuscripts, and other items related to his research and work in the field of play
Hundreds of photographs dealing with children's play gathered by Dr. Frost
In addition to maintaining these research materials, the Mabee Library, in association with UIW's Dreeben School of Education, has hosted a number of events and conferences centered on the unique resources and mission of the Frost Collection. Among others, these include: the Fiesta of Play (2006), Landmarks and Landscapes of Play (2008), Saving Children: A Reform Movement for the 21st Century (2010),and Lifelong Health, Wellness, and Learning through Play(2013).
The collection is open at posted hours during the semester, and by appointment year-round. At this time, materials may be used only within the library, and are not available for check out or loan. The Frost Collection website has further information such as:
Hours of availability, location, contact information and use policies
Biography of Dr. Joe Frost and timeline of his works
Pages showing programs, pictures, and other information from past events
Links to organizations and resources in play research and related areas