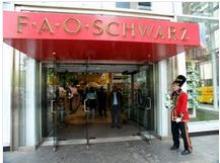 FAO Schwarz is a retail toy store that offers "high-end" quality and unique toys from all over the world and showcases them in an interactive and theatrical experience. This was the dream of Frederick August Otto Schwarz, who said, "I have made toys my life study. It is a splendid issue, and aside from the commercial question, there is more solid satisfaction in dealing with childhood playthings, and in knowing the joy one is sending out into the hearts of the little ones, than in selling any other commodity in the world."1
Frederick was the last of the Schwarz brothers who emigrated from Germany, arriving in Baltimore, Maryland, in 1856. Six years later, in 1862, his older brothers, Gustav and Richard, joined Frederick in opening the Schwarz Toy Bazaar, which specialized in dolls and was located within a fancy-goods store.2 In 1870 the brothers expanded the Toy Bazaar with Gustav and Richard opening stores in Philadelphia and Boston while Frederick opened Schwarz Brothers – Importers on Broadway in New York City.3 As the name implies, Frederick and his brothers imported European toys and playthings.
The next decade meant expansion for Frederick. In 1876 he opened a second New York City location four blocks north on Broadway. That same year he also issued his first mail-order catalog, a Christmas catalog, for his loyal customers. Four years later in 1880, Frederick moved both stores to one location at Union Square and renamed the store FAO Schwarz, which stood for Frederick August Otto Schwarz.4 Over the next thirty years Frederick moved the store to bigger and better locations, first to 23rd Street in 1897 and then to Fifth Avenue in 1910.
The annual exhibition of toys before the Christmas season, a tradition started in 1869 in Baltimore, continued throughout the years and led to Frederick declaring in 1896 that his store was the "Original Santa Claus Headquarters" in New York.5 Another marketing landmark year happened six years later in 1902, when FAO Schwarz debuted the Steiff "Teddy Bear" in the United States. Margarete Steiff invented the stuffed Teddy Bear and created an international company located in Germany that hand-made each bear, which included sewing a button in the ear as their trademark.6
At the age of 75, Frederick died on May 17, 1911. Faithful to Frederick's vision of creating a toy world of "magic and wonder" and of "bringing joy to children," the Schwarz family continued to build and expand FAO Schwarz for the next 50 years.7 In 1931 they moved the store further north on Fifth Avenue to Manhattan's elite shopping district. At this location over the next 55 years they melded elegance with a hands-on toy experience, such as the marble staircase leading upstairs, where there was a slide as an alternative way to reach the main level again. During this time, FAO Schwarz continued to market "exclusive, imaginative, and expensive toys" for the wealthy of New York as well as becoming a tourist destination to experience the best of toys in a dramatic way.8
Just after FAO Schwarz celebrated 100 years of business, the Schwarz family sold the store in 1963 to Parents magazine. Over the next 22 years, the New York City store and ensuing chain stores in other cities were sold four more times9 until finally being owned by Peter L. Harris and Peter C. Morse in 1985. As they continued to be known for their exclusive high-end toys, Harris revived their holiday catalog and added personal shopping services and home deliveries for their stores. That was also the year that FAO Schwarz debuted the Nintendo Entertainment System in the United States.10
FAO Schwarz's flagship store in New York City moved one last time in 1986. Though it moved to just across the street on Fifth, the move expanded the store to 40,000 square feet, a third more than their previous location. As renovations were happening, the store was wrapped in red with a white bow and a card that read "Do Not Open Until November 6," another example of the theatrical experience that was typical of FAO Schwarz. A central feature of the new store was a 28-foot-tall animated clock tower, which included fanciful fairy tale characters such as Humpty Dumpty sitting on the wall of the tower and Dorothy's red ruby slippers from The Wizard of Oz. Their slogan at that time was, "We're Serious About Play."11
Another feature of the new store, a life-size floor piano, became famous in 1988 after it was "played" in the movie Big by Tom Hanks and Robert Loggia.12 As a result, the $15,000 floor piano was in high demand, as was the smaller $6,250 model. Later they invested in and co-produced a Broadway version of Big, which included this famous piano dance.
For the West Coast, FAO Schwarz opened a superstore in San Francisco, which included a miniature city complete with a drive-in theater that played Godzilla on a two-inch screen. As they were preparing to open stores in Beverly Hills, Chicago, and Boston, the company was sold to a Dutch retailer NY Koninklijke Bijenkorf Beheer (KBB) in 1990. Peter Harris stayed with the company for another two years as they continued to expand, adding seven more stores.
John Eyler became CEO of FAO Schwarz in 1992, the year they added the "Barbie Boutique" and the larger bookstore, "Bookmonster," to the New York City Fifth Avenue store. Other changes came with the American Museum of Natural History-licensed products in 1995 and the opening of FAO Schweetz, a candy store-within-a-store in 1996. Through licensing agreements, John brought diverse merchandise lines into the company, including exclusive eyewear, clothing, furniture, and high-end toys relating to Titanic.
FAO Schwarz continued to expand throughout the 1990s, equipping many of their flagship stores with similar theatrical glamour as their New York store. By 1997 they had 39 stores, including 23 flagship stores, and they were expanding their Fifth Avenue store to 60,000 square feet. Two years previously they had already expanded into the internet market through their website and were now distributing six million copies of their catalog.
KBB, and therefore FAO Schwarz, was sold to the Dutch retailer Vendex International in 1998. Two years later John resigned and began working for Toys "R" Us, a rival in the toy industry. Bud Johnson, who had been president and chief operating officer, became FAO Schwarz's new CEO. Store and product expansion continued and in 2001 FAO Baby was launched.13
Late in 2001, Right Start acquired the FAO Schwarz Fifth Avenue store and 22 other FAO stores, 18 of which they immediately closed.14 The following year Right Start became FAO, Inc.; however, by the end of 2003 the company had filed for bankruptcy and the Fifth Avenue store was closed in January of 2004. D.E. Shaw & Co. acquired both the FAO Schwarz Fifth Avenue store and Las Vegas store as well as their catalog and internet businesses.15 On Thanksgiving of that year both stores were re-opened in time for the holiday toy season.
Five years later in 2009, Toys "R" Us acquired FAO Schwarz stores, catalog, and e-commerce site. Toys "R" Us CEO Jerry Storch commented, "We have enormous respect for the FAO Schwarz brand and for the special place it holds in the hearts of children everywhere."16 For the holidays that year they added FAO Schwarz boutiques to existing Toys "R" Us stores. In 2010 these boutiques became permanent features, a new logo and mascot were introduced, and the FAO Cafe was launched in the Fifth Avenue location.17
FAO Schwarz's 150th anniversary was underscored by the induction of founder Frederick August Otto Schwarz into the Toy Industry Hall of Fame in 2012. Frederick was honored as a pioneer of the toy industry and for transforming "the way people shopped for and thought about toys."18
1. "Recognition." FAO Schwarz. < http://www.fao.com/family/index.jsp?categoryId=4411978 > 14 Aug. 2012.
2. "FAO Schwarz – Company Profile, Information, Business Description, History, Background Information on FAO Schwarz." Reference for Business – Company History Index. < http://www.referenceforbusiness.com/history2/52/FAO-Schwarz.html > 14 Aug. 2012.
3. "The History of FAO Schwarz." FAO Schwarz. < http://www.fao.com/shop/index.jsp?categoryId=3810527 > 14 Aug. 2012.
4. "FAO Schwarz Timeline." FAO Schwarz. < http://www.fao.com/family/index.jsp?categoryId=4411978 > 14 Aug. 2012.
5. "Display Ad." New York Times. November 26, 1896. p. 3.
6. "Steiff Collector Guide." FAO Schwarz. < http://www.fao.com/family/index.jsp?categoryId=10829604 > 19 Sep. 2012.
7. "Frederick August Otto Schwarz, Founder of Legendary Toy Retailer FAO Schwarz, Inducted into Toy Industry Hall of Fame." FAO Schwarz. < http://www.fao.com/shop/index.jsp?categoryId=10829613 > 14 Aug. 2012.
8. Op.cit., "FAO Schwarz – Company Profile."
9. FAO Schwarz was sold in 1970 to W.R. Grace & Co., in 1974 to Franz Carl Weber International, in 1985 to Christiana Companies, and also in 1985 to Peter L. Harris and Peter C. Morse. Op.cit., "FAO Schwarz – Company Profile."
10. Op.cit., "FAO Schwarz Timeline."
11. Op.cit., "FAO Schwarz – Company Profile."
12. Op.cit., "FAO Schwarz – Company Profile."
13. Op.cit., "FAO Schwarz – Company Profile."
14. Goldman, Abigail. "Right Start Plans to Buy FAO Schwarz." Los Angeles Times. November 20, 2001. < http://articles.latimes.com/2001/nov/20/business/fi-6157 > 23 Sep. 2012.
15. "Turnaround Firm Buys FAO for $41M." Direct Marketing News. < http://www.dmnews.com/turnaround-firm-buys-fao-for-41m/article/83149/ > 23 Sep. 2012.
16. "Toys "R" Us, Inc. Acquires FAO Schwarz." FAO Schwarz. < http://www.fao.com/shop/index.jsp?categoryId=3891802 > 14 Aug. 2012.
17. "Building on its storied history, FAO Schwarz embarks upon the next evolution of its brand, designed to create enchanting memories for a new generations of kids." FAO Schwarz. < http://www.fao.com/family/index.jsp?categoryId=3893697 > 14 Aug. 2012.
18. Op.cit., "Inducted into Toy Industry Hall of Fame."