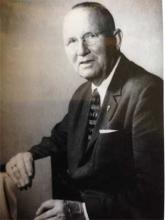 Known as the "father of baseball" in Battle Creek, Michigan, itself the home of amateur baseball, Arch Flannery promoted physical education, amateur sports, and civic recreation for over 40 years. For his achievements the Flannery Softball Complex in Battle Creek was named in his honor and he was posthumously inducted into the Michigan Recreation and Parks Association Hall of Fame in 2005.
Born in 1891 in Owsley County, Kentucky, the son of Thomas and Lucy (Searcy) Flannery and the sibling of nine brothers and sisters, Arch moved north after high school intending to play professional baseball for the Battle Creek Crickets of the Southern Michigan League. Instead he attended the Battle Creek Normal School of Physical Education, which later became Battle Creek College. After two years he transferred to Western State College in nearby Kalamazoo, now known as Western Michigan University.
Continuing his baseball interests, Arch played for the Western State Broncos, earning letters in 1916 and 1917. He also earned a letter in football in 1916 with the team that scored the most points in the country in a single season – 398-38.1 After graduation in 1917, Arch became one of the first full-time Battle Creek Public School Physical Education teachers. With World War I raging though, he interrupted his employment for 11 months to serve in the military.2
After the war, by 1919, Arch supervised the physical education programs for the whole Battle Creek school district as their Athletic Director and assisted as a coach for many school sports. Two years later in 1921, as a volunteer, he started an organized baseball league in Battle Creek, which led to the formation of a city industrial baseball league organized in 1924.3 Both Post, which would become General Foods, and Kellogg companies promoted city teams and built baseball parks in Battle Creek.
In 1923 the school district allowed Arch to work in Hawaii as the Organizing Director of Recreation and Physical Education. While there he supervised the construction of tennis courts and baseball diamonds on Maui.4
Back in Michigan and still employed by the school district, in 1925 Arch was named Director of the newly formed Battle Creek Recreation Association, created to govern all city sponsored sports. At that time a newspaper stated that, "it is a matter of note that Battle Creek now has a greater percent of recreational players, proportionate to population, that any other city in the U.S.A."5 Besides baseball, the Association developed programs including organized golf, tennis, and softball teams.
Arch left the school district in 1929 to become Superintendent of Recreation for the city of Battle Creek and in that capacity he continued to shape civic recreation programs and to maintain and develop recreation grounds until his retirement in 1962. When the city departments were restructured in 1948, his title changed to the City of Battle Creek Director of Recreation, Parks and Buildings.6
One of the popular programs initiated under Arch's leadership was a boy's baseball school started in 1931. Joint sponsored by Battle Creek City and Battle Creek Enquirer and News, the school was held once a week during the spring and summer.7 With as many as 300 boys attending, the boys were grouped by age and by position played for instruction and practice.
As Director, Arch also developed the parks for recreation, in particular Bailey, Fell, McCrea, and Binder Parks, and he assisted in the revamping of McCamley, Piper, and Irving Parks.8 Over the years these parks were expanded with more baseball diamonds and spectator seating. Bailey Park in particular was improved through WPA workers during the American Depression and was considered "depression's gift to Battle Creek." With these improved facilities, in 1935 the first State Municipal Tournament was held in Battle Creek.
The next year in 1936, Arch and associates convinced the Amateur Baseball Congress (ABC) to relocate their headquarters and hold their national series in Battle Creek. This series later became the Stan Musial World Series. While visiting, Frank Navin, the owner of the Detroit Tigers, commented on the "fine baseball facilities in Battle Creek."9
Arch was one of the founding members of the Michigan Amateur Baseball Association and one of the three founding members of the Recreation Association of Michigan, which is now known as the Michigan Recreation and Parks Association. He served as Vice President of the Recreation Association from 1935-1940 and President in 1941.10 As a National Recreation and Park Association member, Arch led the Great Lakes District Advisory Committee. And in the American Institute of Park Executives, he chaired the Committee on Park Maintenance and Operations.
In 1941 during a meeting with City Commissioners of Battle Creek, Arch introduced the need for programs and recreational facilities to serve African American soldiers from nearby Fort Custer. This need was supported by prominent African Americans in the area who had established the Sojourner Truth Association. As the City debated the proposal, the creation of the United Service Organizations (USO) was announced by President Franklin D. Roosevelt, and two USO clubs were established to meet the needs of the soldier and civilian populations.11
Continuing to develop and acquire park recreation facilities, Arch added outdoor lights to Bailey Park in 1940, and in 1946 the Post Company turned their Post Park over to the city, a facility that could hold 4,000 fans. By the time of Arch's retirement, Bailey Park had 13 diamonds, which included a lighted softball field.
Under Arch's leadership organized baseball expanded to girls in 1947 and developed into "The Battle Creek Belles," a girls' baseball league in 1951. During this time Arch also formed a city-wide junior baseball program for boys 9-15 years old. Over the next decade, more and more emphasis was given to this program until in 1961 there were 26 city junior league teams.
Beyond baseball, Arch worked with Cecelia Binder in 1957 to develop the Charles Binder Park in Battle Creek, which included a game reserve, a domestic zoo, an artificial lake, and an 18-hole golf course. 
After 33 years of developing recreation for the city of Battle Creek in a variety of ways, Arch retired in 1962 at the age of 71. He continued to recreate in his retirement and died in 1975 at the age of 84.12
1. "Arch R. Flannery." < http://homepage.eircom.net/~oflannery/bio/bioARF1891xxxx.htm > 28 April 2014.
2. James, Courtney with MaryLou Iverson, daughter of Arch Flannery. "Arch R. Flannery: Director of Parks and Recreation for the City of Battle Cree, Michigan 1919-1962." Personal Correspondence to Playground Professionals. 3 April 2014.
3. Fisher. Alex W. "Remembering Baseball in Battle Creek." < http://www.heritagebattlecreek.org/index.php?option=com_content&view=article&id=107&Itemid=73 > 28 April 2014.
4. Op.cit., "Arch R. Flannery."
5. Op.cit. Fisher.
6. Op.cit., James, Courtney.
7. Op.cit. Fisher.
8. Op.cit., "Arch R. Flannery."
9. Op.cit. Fisher.
10. Op.cit., James, Courtney.
11. "The Hamblin Avenue U.S.O. Memories From Hamblin. < www.memoriesfromhamblin.org/uso.html > 15 Aug. 2013.
12. Op.cit., James, Courtney.