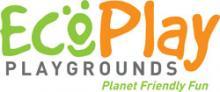 EcoPlay Playgrounds is a commercial playground design, manufacturer, and installation company that offers the EcoPlay products of play structures, swings, and site amenities made from post-consumer, recycled HDPE plastic (milk jugs).1
The company, originally known as Safeplay Systems, was founded in 1989 by Robert and Elaine Gredys and is based in Marietta, Georgia.2 They provided custom designing of play spaces, playground structures, personalized products such as panels and roofs, and project management that included installation. They also offered play surfacing and expandable design and construction guidance to allow a build-in-phases option.
Safeplay Systems created the EcoPlay products with the mission of providing "quality playground products that are safe, dependable and represent value."3 Additionally, they focused on utilizing post-consumer, recycled HDPE plastic to make phthalate-free, sustainable playground structures. In recognition of this, the General Services Administration (GSA) awarded Safeplay Systems their Evergreen Award.
As a preferred provider for Head Start Body Start and an approved GSA vendor, Safeplay Systems was also certified by International Play Equipment Manufacturers Association (IPEMA) and a member of the Professional Housing Management Association (PHMA).4
In March of 2014 Safeplay Systems was sold to new owners. Kent Gregoire was named CEO, and Steve Cornwell was named President and COO. Robert Gredys retired from the operations of the company, though he retained a seat on the Board. 26 March 2014." href="#footnote5_cc6x823">5
In April of 2015 Safeplay Systems announced their name change and new logo to EcoPlay Playgrounds to more closely represent their company's business. The new name indicates the commitment to designing and producing eco-friendly products. 8 April 2015." href="#footnote6_e7q7wix">6
1. "EcoPlay by Safeplay Systems." Safeplay Systems. < http://www.safeplaysystems.com/ > 9 April 2012.
2. Torrey, Eric. Personal correspondence to Playground Professionals. 10 April 2012.
3. Op. cit., "EcoPlay by Safeplay Systems."
4. Op.cit., Torrey.
5. "Safeplay Systems Announces New Corporate Executives." Playground Professionals News Center. < www.playgroundprofessionals.com/news > 26 March 2014.
6. "Safeplay Systems Rebranded As EcoPlay Playgrounds." Playground Professionals News Center. < www.playgroundprofessionals.com/news > 8 April 2015.