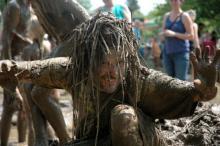 Rusty Keeler initiated the EarthPlay email discussion group in 1996 for a place to share ideas and information about natural play spaces.1 From that beginning, EarthPlay was founded to create "outdoor play environments for the soul."2
As an artist, designer, and firm believer in the importance of play, Rusty collaborates with Leon Smith, another designer and preschool educator. Since 2004 they have assisted communities in designing, planning, and building natural playscapes.
Based in Spencer, New York, EarthPlay offers custom master plans of outdoor play spaces, consultations, natural art installations, community-built construction planning, and hands-on assistance. They also conduct workshops concerning playscape designs, community building projects, and new ways to perceive the world.
Besides connecting children of all ages with nature, EarthPlay designs are accessible for children of all abilities. Incorporating safety elements learned in the Certified Playground Safety Inspector (CPSI) course offered by the National Recreation and Park Association (NRPA), they specialize in natural playscapes where, "the entire space is filled with art, hills, pathways, trees, herbs, open area, sand, water, music, and more... Where children find places to run, climb, dig, pretend, and hide..."3 This trend for natural playspaces is explored further in Rusty's book, Natural Playscapes, which was published in 2008.
Leon's background in ecological design and his position as a member of the board of directors of the Community Built Association, contributes to EarthPlay's nature and community focus. They emphasize using local artists, plumbers, masons, and gardeners, not only in building the play spaces, but in custom designing their features. EarthPlay also encourages using local woods and sawmills for all wooden features.