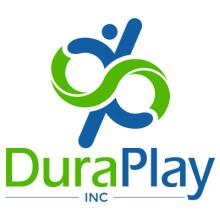 DuraPlay is a rubber poured-in-place safety surfacing company based in Wimberley, Texas. They provide safe fall surfaces for playgrounds, theme parks, and childcare centers addressing the reality that 75%-80% of playground injuries result from falls to unsafe surfaces.1 They also provide poured-in-place surfacing for no fall zone areas, such as pool decks, spray grounds, walkways, and jogging paths.
Darren Toomey, who founded DuraPlay in 1999, was on one of the first crews to install poured-in-place (PIP) surfacing in the United States. Ten years later, drawing on his hands-on installation experience, Darren created a full-service company that installs anywhere in America.
Using up to 70% recycled rubber, DuraPlay offers two levels of surfacing: DuraPlay Surfacing System for fall zones and Duradeck Surfacing System for no fall zones. Once the PIP is installed, the porous, seamless surface requires no maintenance and provides a consistent safe surface that is wheelchair friendly. The surface is also non-slip and fire resistant.
DuraPlay utilizes a half inch wearing course with 2.7 pounds of material per each square foot,2 which is available in eight standard colors, ten special order colors, or a combination of colors to create desired design requirements for play spaces.3 A notable example of their work is the playground surfacing done for Envision Child Development Center. DuraPlay also collaborated with playground manufacturer KOMPAN and the Make It Right Foundation to provide a new playground for the children in the Lower Ninth Ward in New Orleans after Hurricane Katrina.4
1. "About Us." DuraPlay. < http://www.duraplay.net/about.htm > 21 Dec. 2011.
2. "Surfacing Systems." DuraPlay. < http://www.duraplay.net/surfacing.htm > 21 Dec. 2011.
3. "DuraPlay, inc. Safety Surfaces Catalog." DuraPlay. < http://www.duraplay.net/pdf/Duraplay%20Catalog%206_11.pdf > 12 July 2012.
4. Op.cit., "Playground Magazine Spotlight:"