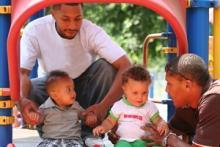 Directional awareness is one of many perceptual motor skills that children learn as they become mobile. Motor skills are combined with perceptual, sensory skills, such as visual, auditory, and tactile abilities, to develop increasingly complex behaviors. Perceptual motor skills include body awareness, spatial awareness, directional awareness, and temporal awareness.1
Directional awareness is understanding the concepts of left and right, up and down, in and out, top and bottom, and front and back. Experiences with movement where direction is important develop these skills and are vital for the child's development of movement awareness.2
There are two critical concepts that are the foundation for directional awareness: laterality and directionality. Laterality refers to the two sides of the body. In order for children to plan and execute specific movements in a certain direction, they must develop an internal awareness that their bodies are composed of two sides: the left side and the right side.3 They will sense direction in relation to one side of the body or the other, without consciously having to look for external cues to determine left from right.4 Directionality is the application of the concept of laterality to the external world. Understanding there is a left and right gives perspective to where things are in relationship to each other. Directionality helps children understand the space around them and the relationship of things in that space.5
Directional awareness activities develop the awareness of the body as it is projected into space and gives dimension to other objects in space. It implies a relationship between objects as they move. Linking movement activities to verbal cues of in and out, up and down, and over and under will reinforce the concepts involved in directional awareness that encompasses both laterality and directionality.6
Fundamental movement skills were often learned through free play and then reinforced in physical education classes. However, outdoor free play has almost disappeared, and physical education has been scaled back. Children are more sedentary, and when they do actively play, it is more often in an organized game or practice session for a sport. There is a growing concern that there has been a significant decline in teaching fundamental movement skills.7
1. Frost, Joe L., Sue Wortham, Stuart Reifel. Play and Child Development. Upper Saddle River, NJ: Prentice-Hall, Inc., 2001. p. 164.
2. Frost, Joe L., Pei-San Brown, John A. Sutterby, Candra D. Thornton. The Developmental Benefits of Playgrounds. Olney, MD: Association for Childhood Education International, 2004. p. 129.
3. Strickland, Eric. "Physical Development: Which Way Is Up?" Scholastic. < http://www2.scholastic.com/browse/article.jsp?id=3745835 > 27 Oct. 2010.
4. Gallahue, David L. and Frances Cleland Donnelly. Developmental Physical Education for All Children. 4th ed. Champaign, IL: Human Kinetics. 2003. p. 115.
5. Op. cit., Strickland.
6. Op. cit., Gallahue.
7. "Movement Awareness, Proprioception, Posture and Balance." Gill Athletics. < http://www.gillathletics.com/articles/GMA.pdf > 27 Oct. 2010.