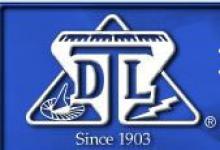 In 1995, the newly formed International Play Equipment Manufacturers Association (IPEMA) was looking for an organization to provide third-party physical validation of compliance with the safety standards in the ASTM International (ASTM) F1487, F1292, and F2075.1 These safety standards involved playground equipment and playground surfaces. IPEMA turned to Detroit Testing Laboratory, an independent A2LA accredited, testing laboratory based in Detroit, Michigan.2
The Detroit Testing Laboratory, Inc. (DTL) had been a testing laboratory since 1903 when William Putnam founded it to provide quality control testing on the automotive industry. In 1948, Dow Associates acquired DTL and broadened the scope of its services to include "the areas of chemical, metallurgical and mechanical engineering."3 They also expanded their automotive testing servicing in the 1960s to embrace the testing of seat belts, door latches, and brake systems.
Pier Talenti acquired Detroit Testing Laboratory in 1976 and combined it with the Ann Arbor Testing Laboratory to serve the testing needs of the automotive and marine industries. This meant expanding into testing the new plastic components, photometric testing, and fuel and electrical testing. Their facilities also expanded to testing centers in Marysville and Willow Run, Michigan, and in 1989 they moved their headquarters to Warren, Michigan.
By 1995, when DTL's contract with IPEMA began, they had added a polymer and composites, thermal analysis and rheology laboratory. They were fully equipped to test playground equipment and surfacing. This certification program involved verifying a manufacturer's facilities and procedures, which included calibration procedures, test procedures, test equipment, site inspection, and knowledge of safe playground layout.
Detroit Testing Laboratory held the exclusive rights to IPEMA certification until 2010, when they sold the rights to TÜV SÜD America, Inc. of Plymouth, Michigan.4 They chose to focus their testing resources more fully on the automotive, military, and aerospace industries.5 This included establishing a hybrid and electric vehicle battery testing lab in 2007 and a military, aerospace, and consumer products testing facility in Melbourne, Florida in 2009.6
1. "Press Release." Detroit Testing Laboratory, Inc. < http://www.dtl-inc.com/pdfs/press/DTL-Inc_Receives_5-Year_IPEMA_Certification_Extension.pdf > 15 Sep. 2011.
2. "Welcome to Detroit Testing Laboratory, Inc." Detroit Testing Laboratory, Inc. < http://www.dtl-inc.com/about_dtl.html > 15 Sep. 2011. Note: A2LA is the American Association for Laboratory Accreditation.
3. "History of Detroit Testing Laboratory, Inc." Detroit Testing Laboratory, Inc. < http://www.dtl-inc.com/history.html > 15 Sep. 2011.
4. "Press Release." Detroit Testing Laboratory, Inc. < http://www.dtl-inc.com/pdfs/press/detroit_testing_laboratory_inc_certification_sale.pdf > 15 Sep. 2011.
5. Ibid.
6. Op.cit., "History of Detroit Testing Laboratory, Inc."