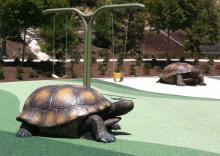 Cemrock Naturalistic Environments constructs, fabricates, and installs concrete landscaping features and realistic exhibits for zoos, aquariums, parks, playgrounds, and museums. They also stabilize coastlines and slopes from erosion with natural looking sculpted retaining walls.
Rick Dyson founded Cemrock in 1978 in Tucson, Arizona.1 Cemrock began creating artificial rockwork, trees, and naturalistic environments for museums, zoos, and aquariums. Cemrock then entered the commercial marketplace venturing into golf courses, theme parks, resorts, and roadside and coastal stabilization projects.
The synthetic animal habitats created by Cemrock employ artificial rockwork, fabricated trees, water features, and naturalistic paintings. At the Minnesota Zoo's award-winning Russia's Grizzly Coast exhibit, they created trees, geysers, beaches, and rocks for habitats for bears, otters, leopards, and boars. The resulting "realism" was such that even the industry experts "struggled to distinguish it from real rock."2
Their playground fabrications have included boulders and walls as well as regional wildlife sculptures, such as lizards and frogs, for climbing. Realistic-looking logs, cacti and trees with slides, and fossil and artifact digs are some of their custom designs for children's play.3 Whimsical and durable interactive play sculptures of life-sized or larger animals, insects, and trees, along with boats, planes, buildings, and fantasy creations make Cemrock playgrounds one of a kind.
Many of the items for exhibits and playgrounds are fabricated in their Arizona shop and then shipped to the zoo, museum, resort, aquarium, or playground for installation in a natural setting. Their goal is "to reflect the elements of the natural world with the inspiration of design."4 To do so, they utilize fiberglass, urethanes, epoxies, glass fiber reinforced concrete (GFRC), and a light weight concrete system as needed. Other services include scale architectural and biological models, welding and cabinetry, and engineering and project management.5
Cemrock's corporate headquarters is located on 1.5 acres in Tucson, Arizona with a regional office in Seattle, Washington. The Tucson facility comprises 4,500 square feet of fabrication space, access to an additional 10,000 square feet of indoor shop space and 5,500 square feet of offices. In 2001, Cemrock acquired the 20 year old Seattle based Jolly Miller Company, its 10,000 square foot facility and all of its employees, bringing the entire work force to over 100 full time employees.
Although primarily working in the United States, Cemrock has experience with projects in Canada, the Bahamas, Asia, and the United Kingdom. Cemrock has completed projects for a variety of clients, such as Shedd Aquarium, Smithsonian Institution, Pebble Beach Golf Course, Omni Hotels & Resorts and Sea World among others.6 The company has received numerous awards including "Best New Exhibit" and "Significant Achievement" awarded by the Association of Zoos and Aquariums (AZA).7
1. "About Cemrock." Cemrock. < http://www.cemrock.com/who.html > 10 April 2012.
2. O'Brien, Kelly. "Artisan in Concrete: Brian Olson, Cemrock Landscapes Inc., Tucson, Ariz." Concrete Décor. Feb/Mar 2011. < http://www.concretedecor.net/decorativeconcretearticles/vol-11-no-2-februarymarch-2011/artisan-in-concrete-brian-olson-cemrock-landscapes/ > 12 July 2012.
3. "Parks & Playgrounds." Cemrock. < http://www.cemrock.com/parks/park2.html > 23 July 2012.
4. "Welcome to Cemrock." Cemrock. < http://www.cemrock.com/ > 10 April 2012.
5. Op.cit., "About Cemrock."
6. Private correspondence from Cemrock to Playground Professionals. 15 Aug. 2012.
7. Op.cit., "About Cemrock."