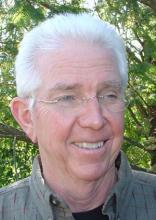 Jay Beckwith, one of the "fathers of the modern playground," attended Whittier College starting in 1961. He then went to San Francisco State University for a Fine Arts & Design degree in 1963 and did graduate studies at Pacific Oaks College in Child Development in 1965.
With his background in art, design, and child development Jay started designing unique play environments in 1970. In four years time, he designed 250 community-built custom play environments. This work was documented in collaborating with Jeremy Hewes in the book they wrote: Build Your Own Playground.1 During this time he was the first living artist to have a one-man show at the San Francisco DeYoung Museum of his play sculptures.
Teaming up with BigToys in 1976, Jay used their log system for his designs and installed hundreds of Schoolyard BigToys across the nation. This was the first play equipment "multi-function" play structure system, and it included a curriculum. For the home customer, he expressed his unique design philosophy and expertise in Make Your Backyard More Interesting than TV, which was published in 1980.
Combining the then newly developed thin-wall tubing, powdercoating, and rotocast plastic materials, in 1981 Jay designed the first modular "post and deck" play structure called PlayBoosters for Mexico Forge (now Landscape Structures). A few years later he created the Kid Builders, another modular design, for Iron Mountain Forge, which is now Little Tikes Commercial Play Equipment.
The design concept has been copied by many other play equipment manufacturers until it has become became the standard for late 20th century play equipment. Later Jay decried this trend, lamenting that "... most other types of play equipment have been forced out of the market. For the past 15 years, playgrounds have begun to look more and more alike."2 He had designed those post and deck systems for 1st through 3rd graders to match their developmental needs of playing chase and tag through a large complex play structure. "We did not intend that post and deck play structures become the total play space, which is now the rule."3
During those 15 years, Jay continued to design, develop programs, and write books. In 1985, he developed The Playground Risk Management Program, which has been used widely by schools and park districts. A year later, he started his own playscape design and equipment company, Beckwith Associates, Ltd.
In 1987 Jay wrote "Negligence: Safety from Falls Overlooked" for the publication Where Our Children Play and How to Design & Build Children's Play Equipment. Then in 1988 he wrote "Play Equipment: A Designer's Perspective" for that same publication.4 He also became a member of ASTM International and served on the Public Playground Equipment Standards and Surfaces Committees. He began design consulting for KOMPAN, a Danish company, and there developed the 10 Plus systems. He was also on their United States Childhood Council in 1991-1992, and in 1995 he was the founder and president of Kompan California Inc. Then over the next five years, he represented KOMPAN and BigToys in California.
During the time he was assisting and representing KOMPAN, he was also consulting for Disney Imagineering (1989) and Maze Inc. (1990-1992). And, continuing to share his insights and expertise, he wrote Play It Safe for the Schools Insurance Authority of Sacramento. Jay's association with Iron Mountain Forge (Little Tikes) also continued. A decade after creating the Kid Builders, he was on their representative council from 1994-1996. And another decade later in 2006 he was consulting for PlayPower, Inc., whose companies include Little Tikes, Miracle Recreation Equipment Company, and Hags. Jay also designed the play system used by Gymboree Corp in 1995 and is currently upgrading the range.
Starting in 1994, Jay became a Certified Playground Safety Inspector (CPSI) through the National Recreation and Park Association (NRPA). During the 9 years he was a CPSI inspector he also consulted for the California Department of Health on the "Playgrounds 2000" safety code. Since 2002 Jay has been on the Ad Hoc Playground Safety Committee of the California Parks and Recreation Department.
For the past twenty-one years, Jay has been a Fellow of The Association for the Study of Play. His writings show his introspection and perception of the current trends in play for children and playgrounds. During the 15 years since creating PlayBoosters and Kid Builders and while the industry was making those designs a "one size fits all" standard, Jay was observing the changing society of children and their play. He said of this time:
"In trying to understand what this change means, what kids will respond to and respect, I've spent a lot of time among the kids and with the literature in this field. From my studies I've developed eleven basic rules. These have really helped me better see the world through their eyes. They have also illuminated my design practice. I use them every day to make choices about what to build so that I am sure the kids will like what I make."5
With these 11 rules Jay founded BOLDR, Inc. in 1999. Their launch product was TrainR, a horizontal climbing system made of precast light-weight concrete sculpted boulders. The next year BOLDR Naturals was added for natural looking climbers. And in 2001 BOLDR Imaginations, precast play tables and sculptures, were added to Jay's new direction in play environments.
Just as they were contemplating how to add ropes to their winning climbing formula, a military base ordered a big rock climbing garden. This contract facilitated the first Rocks and Ropes Adventure Course that was launched in 2004. The combination of steel core ropes that connect large, natural boulder sculptures that are designed for fun and challenge was an instant hit.
From Jay's observations and research, he concluded, "Perhaps it is time to step back from the myopic vision of the modern playground paradigm and consider the broader consequences of our actions. Should we come to our senses and begin to create much more challenging playgrounds? They will still be the safest places for children to spend time, and they will also develop the skills and abilities that will help keep them active and fit lifelong."6
He noted that all the safety regulations hadn't significantly lowered the numbers of accidents happening in the playgrounds. Jay also observed that the average playground was age appropriate for kids 7-10 years of age. Those younger were still getting hurt when trying to do activities too advanced and from being in the way of those older kids tearing around the equipment. On the other side of the coin there are those older children getting hurt trying to find a challenge by using the structures inappropriately, such as climbing up the slide or sitting on top of the hanging bars. Jay has concluded, "Changing our priorities and designing so that the natural play patterns of children are better supported is the best way to continue to improve overall playground safety."7
Jay postulated that the safer playground is one that challenges and teaches. He said, "An important part of play is risk taking. It has been known for some time that learning takes place fastest when there is a high degree of failure. Kids naturally push themselves to their limits in order to develop fully. Play makes risk-taking fun."8
By designing play spaces to match the children's developmental play patterns, and by building in increasing levels of difficulty for their "push-the-limits growth," the neighborhood playground can become a safe and desired destination. "Building skills in kids is the real key to accident reduction, both on the playground and in all aspects of their life. A skilled climber is not likely to be the kid you have to take to the emergency room because of a playground accident. Learning how to climb on a TrainR is a very low risk way for kids to gain these skills without any instruction or supervision required."9
In addition to supporting "buying locally" and the "co-op" concept of business, Jay has taken being "green" seriously. Their manufacturing partner recycles industrial tailings to make BOLDR products which supplies up to 80% of the product content. This plant is heated with reclaimed oil. Solar energy and a wind generator provide a significant part the power for the plant and offices. Also, all of their vehicles are fueled with bio-diesel which they make on site.
1. Beckwith, Jay and Jeremy Hewes. Build Your Own Playground. Houghton-Mifflin, 1974.
2. Beckwith, Jay. "Designing Playgrounds for the Next Generation." Landscape Northwest, Special Section. < www.djc.com/nes/co/11188166.html > 09 Apr. 2010.
3. Beckwith, Jay. "Why Our Playgrounds are Boring to Today's Wired Child", paper given at the Minnesota Recreation and Parks Association 63rd Annual Conference, November 5, 2000.
4. Beckwith, Jay. Play Equipment: A Designer's Perspective. Vol. I and Vol. II respectively.
5. Beckwith, Jay. "Why Our Playgrounds are Boring to Today's Wired Child" The eleven rules are 1) layered, 2) linked, 3) Non-linear, 4) Configurable, 5) Virtual, 6) Interactive, 7) Recordable, 8) Embedded, 9) Real-time, 10) Operating system, 11) High tech, high touch.
6. "The Devil's Playground: How the Law of Unintended Consequences has Diminished Children's Play", Landscape Architect and Specifier News, September 2003.
7. "Safer Playgrounds – Part One: How to Design Them", 19 Feb. 2001.
8. "Safer Playgrounds – Part One: How to Design Them", 19 Feb. 2001.
9. "Safer Playgrounds – Part Two: Why BOLDR TrainR is Safer than a Play Structure", 19 Feb. 2001.