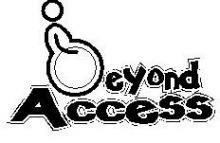 The Beyond Access program disseminates information on designing physically accessible and socially inclusive playgrounds for children of all abilities. They recognize that "no other activity in children's lives provides as much richness and experience as free play," and yet "the typical playground may often be a place of failure for a child with a disability." They believe the ideal playground "enables all children to use their individual strengths and abilities to engage in play independently and equally with their friends, siblings, and neighbors."1
Dr. Keith Christensen, a researcher for the Center for Persons with Disabilities at Utah State University in Logan, Utah, created the Beyond Access program in 2001 through funding from the U.S. Administration on Developmental Disabilities: Project of National Significance.2 Beyond Access provides technical assistance and information for play designers, including connecting links within the playground industry and current government regulations.
Online they offer tutorials on the Outdoor Learning Environment, Socially Inclusive Designs, and the Design Process. They also work with industry partners, consumers, and advocates to build inclusive playgrounds that "recognize the child's right to equal play, full participation and independence."3
Beyond Access maintains that removing physical barriers for children with disabilities on the playground does not necessarily remove the social barriers. Dr. Christensen believes that "Beyond disability, there are abilities; beyond accessibility, there is inclusion."4 Inclusion, in a play environment, means the removal of social barriers so that play can be a physical, cognitive, and social experience for all children. Beyond Access states that this is accomplished by "thoughtfully considering the needs of the child and how they achieve independence and equality."5
As Director of Beyond Access, Dr. Christensen advocates for inclusive play through greater understanding of the similarities between children with and without disabilities, a factor he feels is "critical to meaningful play for children."6
1. "Beyond Access." Center for Persons with Disabilities. < http://www.cpdusu.org/projects/access/ > 14 June 2012.
2. "Keith M. Christensen, Landscape Architect." Utah State University, Landscape Architecture and Environmental Planning. < http://laep.usu.edu/files/uploads/CV/vita%20for%20website%202011%20(2).pdf > 14 June 2012.
3. "Keith Christensen, Ph D." Center for Persons with Disabilities. < http://www.cpdusu.org/people/keithchristensen/ > 14 June 2012.
4. Christensen, Keith. "Inclusion, Providing equal opportunities for physical and social play." Words on Play – A Treatise on its Value by Leading Play Scholars. Playcore. Print.
5. Op.cit., "Beyond Access."
6. Op.cit., Christensen.