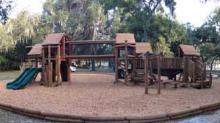 In 2000, Danny and Marcye Bears founded Bears Playgrounds, which designs, manufactures, and installs nature-inspired playgrounds nationwide and internationally. The company uses natural materials in their effort to "marry nature with play."1 Danny and his wife, Marcye, along with a team of dedicated employees, work to provide playgrounds designed to increase a child's love of nature as well as provide opportunities for growth and development.
Located in Lima, New York, they offer playgrounds mostly for commercial use with some home use sales. Besides the natural playgrounds, Bears Playgrounds also offers safety surfacing options.
Danny and Marcye Bears began designing their nature-inspired playgrounds on the family farm in Lima. On June 25, 2008, while the family was away, an electrical fire broke out in one of their barns. Though firefighters were able to save the family home, five buildings were lost, along with the company's inventory and equipment. With help from family, the community, and suppliers, they were able to get back to business in a short time. The company's new 36,000 square foot shop, which has 5 loading docks with 14' doors, allows them to assemble orders indoors before shipping and they have an area dedicated for building full scale prototypes.
Bears Playgrounds offers a wide variety of playground designs, as well as customized playgrounds to meet specific needs and desires. They use natural materials, like whole cedar logs, which "have a fat end and a skinny end like a tree."2 Due to the variable shapes of the cedar logs, each playground has a distinct look. The beautiful wood grain and all the variations of checking, knots, crooks, and curves found in the logs offer a tactile and sensory experience. These northern white cedar logs are sanded and are naturally splinter resistant. Cedar logs are also naturally weather resistant as well as being arsenic and chemical free. To enhance the inherent weather protection, they finish all their wood structures with a semi-transparent water-based brown stain.3
The natural playgrounds have features that challenge children to climb up, down, and around on the structures using unique designs, which frequently include separate play-linked events like the tree hopper, faux log tunnels, and ground paw hoppers.
Within the industry, Danny and Marcye Bears are on a technical subcommittee for ASTM International (ASTM), which writes playground safety standards. Other members of their team are Certified Playground Safety Inspectors (CPSI). The Bears are also members of the National Playground Contractor Association Inc, the International Play Equipment Manufacturers Association, and The Association for Challenge Course Technology (ACCT). Dealing with natural materials has also led them to support Global Re-Leaf, which plants trees for reforestation.
Speaking of the natural emphasis used in their playgrounds, Danny Bears explains how their products contribute to childhood play: "With our playgrounds, we have created a 'hybrid' or balance between the innocent, natural adventure of playing in the forest and the structure and safety required by today's standards for children's spaces."4 Bears natural playgrounds are designed to stimulate children's interest in nature, facilitate learning, provide opportunities for exercise, provide safe opportunities for age appropriate risk taking, and build social skills. The unique designs and natural materials encourage a child's love for nature and the outdoors.