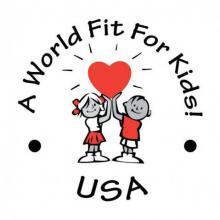 what is wfit?
A World Fit For Kids! (WFIT) is a Los Angeles afterschool program which pairs quality physical activity with teaching healthy behaviors in order to reduce obesity, increase high school graduation rates, and prepare youth for the workforce. As a nonprofit organization, they utilize their award-winning mentoring model in disadvantaged communities in order to "give young people the training, tools, and support they need to achieve their goals and lead fit and fulfilling lives."1
Through WFIT's programs children and youth in high-crime and high-poverty neighborhoods discover they do have choices and how to make positive decisions for their health, education, and future. Students are staying in school, scoring higher on standardized tests, graduating, entering either college or the workforce, and staying physically active and healthy.
History of a world fit for kids!
The 1992 Los Angeles Riots motivated Camille Harris, a publisher, to form the Fitness Alliance of Los Angeles in 1993.2 Their goal was to assist the inner-city youth to realize they have power over themselves and begin to have hope in their future. In the beginning, The Alliance provided professional fitness instructors during the school day where the physical education classes had been eliminated. These fitness sessions focused on wellness and self-esteem as well as physical education.
Normandie Nigh became Executive Director in 1994 and transformed The Alliance into LA Fit for Kids, an afterschool program. She designed the award-winning Mentors in MotionSM (MiM) Program where the high school students worked with positive adult role models to discover their strengths and then in turn coached younger students. The student mentors learned to "push beyond self-imposed limitations, refine existing skills and develop new ones" and thus become "active advocates, empowered leaders, and healthy behaviors ambassadors" for their families, schools, and communities.3
Three years later in 1997, they became known as A World Fit For Kids! and actor Kevin Sorbo became their celebrity spokesperson and an actively involved supporter. As chair of WFIT Board of Directors, Kevin was recognized nationally for his advocacy of afterschool programs, which led to U.S. General Colin Powell's America's Promise Alliance honoring Kevin in 1999 for raising the public's awareness of the issues facing the youth.4 Over the next decade, along with his continued support of the Los Angeles WFIT, Kevin became a national spokesperson for both the America's Promise Alliance and The Afterschool Alliance.
Another important partnership was formed in 1999 with the connection of WFIT to the Los Angeles Unified School District through their before and after school program Beyond the Bell.5 WFIT's K-12 program includes age-appropriate support for elementary school students, middle school students, and high schools students. After 13 years, they are daily involved at 11 Los Angeles low-income schools, two of which have been certified as Healthy Behaviors Learning Centers to Fight Childhood Obesity and Hunger.6
WFit's program benefits
While all three education levels include physical activity, homework assistance, and enrichment activities, the elementary program also includes nutrition education, healthy snacks, and mentoring. Children receive hands-on food preparation experiences and a place to move, develop sport skills, and learn how to "direct their energy in positive ways."7
For the middle school students who are beginning to assert their independence, mentoring is continued and each student chooses a club activity to be involved in after their homework hour. Through these clubs, sports are introduced as well as arts, drama, photography, and music.8 The WFIT's Freshman Leadership ProgramSM begins in eighth grade and prepares the students to transition smoothly into high school.
Once in high school, the students participate in the Mentors in MotionSM program by completing a basic training in leadership and communicating and then participating in a minimum of 24 hours of mentor "shadowing" in the elementary and middle schools. The final part of MiM involves a six month internship as an Assistant Coach-Mentor with younger students and youth.9 The high school students design their own program as they prepare for graduation and work and/or college.
WFIT's programs also include and support the President's Challenge Physical Activity and Fitness Awards Program and First Lady Michelle Obama's Let's Move! Initiative. They concur with the Physical Education Research For Kids' study which states that "Physical activity is critical for optimal brain function and the ability to learn. Physical activity improves the executive functions, the ability to concentrate, memory, and intellectual performance."10
WFit's program success
The MiM program was awarded the California Governor's Council on Physical Fitness and Sports' 2007 Gold Medal for "positively impacting the physical activity, fitness and well-being of California's children and youth."11 That same year WFIT began an extensive training program for college students, parents, teachers, fitness professionals, and youth-serving professionals. This program involves training master trainers and thus is growing a network of trainers that are spreading the WFIT programs beyond Los Angeles, California.12
The programs included in this expansion training plan are the aforementioned Mentors in MotionSM program and the Freshman Leadership ProgramSM as well as the Nourishing MattersSM program, an interactive nutrition workshop, and the Physical Activity Leadership program, a training on maximizing resources, space, and equipment for significant physical activities.13 Each of the new trainers then train local volunteers to become "change agents" who make positive changes in their own lives as they mentor disadvantaged children and youth to do the same.14
The National Coalition for Promoting Physical Activity's report Make the Move 2010-11: Implementation of the U.S. Physical Activity Plan recognized WFIT as a "successful example" of consistent messaging and modeling with youth and a working partnership with the Los Angeles Unified School District.15 Due to WFIT's "long-term commitment and successful track record to provide youth leaders with tools to better prepare young people for college, work and life," the National Ready by 21 Initiative has asked them to lead the initiative in Los Angeles.
Also in 2010, Normandie received the Community Leadership Award from the President's Council on Fitness, Sports and Nutrition and the High School Innovator Award for Youth Development.16 She also has received the 2012 Champion for Change Gold Award from the Network for a Healthy California for her leadership of WFIT.
Since 1993 WFIT has also brought over $20 million into disadvantaged communities, hired more than 1500 local residents, saved each household approximately $6500 a year in childcare costs by offering their afterschool programs for free, and reduced health care costs by preventing and reducing childhood obesity.17 In partnership with the Los Angeles Food Bank and wholesale grocers, the Snack Shack program was added to WFIT in 2009. To assist and reinforce healthy eating habits in the home, low income families receive free and reduced prices on fruits and vegetables as well as healthy snacks and recipes when they pick up their children from their afterschool programs.
1. "About Us – About Us." A World Fit For Kids. < http://www.worldfitforkids.org/about/ > 24 July 2012.
2. "About Us – History." A World Fit For Kids. < http://www.worldfitforkids.org/about/history/ > 25 July 2012.
3. Op.cit., "About Us – About Us."
4. "About Us – Board of Directors." A World Fit For Kids. < http://www.worldfitforkids.org/about/board/ > 25 July 2012.
5. Op.cit., "About Us – History."
6. "About Us – Executive Summary." A World Fit For Kids. < http://www.worldfitforkids.org/about/executive_summary/ > 25 July 2012.
7. "Elementary School." A World Fit For Kids. < http://www.worldfitforkids.org/programs/elementary/ > 2 Sep. 2012.
8. "Middle School." A World Fit For Kids. < http://www.worldfitforkids.org/programs/middleschool/ > 2 Sep. 2012.
9. "Mentors in Motion." A World Fit For Kids. < http://www.worldfitforkids.org/training/mentors_in_motion/ > 2 Sep. 2012.
10. "Programs." A World Fit For Kids. < http://www.worldfitforkids.org/programs/ > 25 July 2012.
11. "Awards and Recognition." A World Fit For Kids. < http://www.worldfitforkids.org/about/awards_and_recognition/ > 25 July 2012.
12. "BE the Change!" A World Fit For Kids. < http://www.worldfitforkids.org/training/ > 2 Sep. 2012.
13. "Physical Activity Leadership." A World Fit For Kids.< http://www.worldfitforkids.org/training/PAL/ > 2 Sep. 2012.
14. Op.cit., "BE the Change!"
15. Op.cit., "Awards and Recognition."
16. "Awards and Recognition." Center for Collaborative Solutions. < http://www.ccscenter.org/afterschool/Awards_and_Recognition > 2 Sep. 2012.
17. Op.cit., "About Us – Executive Summary."