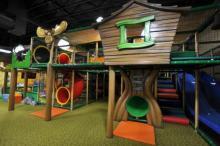 From its headquarters and manufacturing facility in Surrey, British Columbia, Atomic Playgrounds, led by Founder, Owner and Creative Director Tyler Buchanan, designs, manufactures, and installs indoor play equipment wherever children play. Since 1999, Atomic Playgrounds has been delivering themed and unthemed, custom indoor play systems to amusement centers, doctor's offices, museums, community centers, shopping malls, restaurants, and retail outlets. Atomic's distinctive craftsmanship can be found in North and South America, Europe, the Middle East and the Far East.1
In addition to designing unique play systems, Atomic also creates custom branding solutions for its clients with logo, character, and artwork development for use in digital murals, playground theming, indoor and outdoor signage, and marketing literature.
Atomic Playgrounds offers a "Must Haves" line to further provide its customers with the tools they need for a successful business or play area. These essential elements include custom check-in kiosks and signage, rules signs and themed shoe holders, flooring and safety surfacing, party room seating and tables, and perimeter walls and railings.
Keeping with its one-stop-shop philosophy, Atomic also offers a variety of complimentary play events and products. These include custom rock and climbing walls, custom designed toddler areas and a large selection of toddler accessories and toys, plus brand-name inflatable and air bounce products, comfy seating, and Soft 'n Safe play pieces. Soft 'n Safe is Atomic's own brand of soft foam products with a unique coating system that is durable and easy to clean. These free-standing pieces reflect a theme, a company logo, or a corporate image.
Every Atomic playground, including fully customizable equipment from its Fun Factor Series, Atomic Fun Series, and Colossal Fun Series, meet and exceed North American ASTM International standards for indoor soft playgrounds. 
Commenting on Atomic's approach to a new project, Tyler Buchanan says, "Our ultimate goal is to create one-of-a-kind play environments that will capture and excite the imaginations of children for hours on end."2