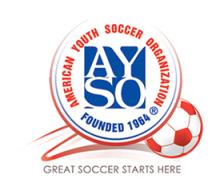 The American Youth Soccer Organization (AYSO) is a non-profit organization that provides youth soccer programs for participants in the United States as well as in the Virgin Islands and Trinidad and Tobago. Often called "the biggest soccer club in the world," AYSO consists of over 50,000 teams and 500,000 players. Their mission is to develop and deliver quality youth soccer programs which promote a fun, family environment based on their "Six Philosophies."1
Their philosophies are living tenets that separate AYSO from other sports organizations. They are:
Everyone Plays – Every player on every team must play at least 50 percent of every game.
Balanced Teams – Teams are re-formed each year as evenly balanced in ability as possible to promote players gaining experience from a wide variety of teammates of different skill levels.
Open Registration – All children who want to register and play soccer are allowed in the AYSO program. There are no elimination try-outs.
Positive Coaching – Coaches are required to create a positive experience for every boy and girl encouraging their efforts, which leads to better-skilled and better-motivated players.
Good Sportsmanship – A positive environment based on mutual respect rather than a win-at-all-costs attitude is designed to instill good sportsmanship.
Player Development – All players should be able to develop their soccer skills and knowledge to the best of their abilities, both individually and as members of a team.2
The AYSO program is child-focused and has "what's good for the kids" as its basis for everything it does. This philosophy extends to conduct for all players, coaches, families, and volunteers. To promote good sportsmanship, the players are expected to adhere to the Player's Code:
Play for the fun of it, not just to please your parents or coach.
Play by the Laws of the Game.
Never argue with or complain about referees' calls or decisions.
Control your temper. Most of all, resist the temptation to retaliate when you feel you have been wronged.
Concentrate on playing soccer with your best efforts. Work equally hard for your team as for yourself.
Be a good sport by cheering all good plays, whether it is your team's or your opponent's.
Treat all players as you would like to be treated.
Remember that the goals of the game are to have fun, improve skills, and feel good. Don't be a showoff or a ball hog.
Cooperate with your coaches, teammates, opponents, and the referees.
The coaches and referees have their own set of codes as well to promote a positive experience.3
The Kids Zone program asks parents and spectators to adhere to these guidelines:
Kids are No. 1.
Fun, not winning, is everything.
Fans only cheer, and only coaches coach.
No yelling in anger.
Respect the volunteer referees.
No swearing or abusive behavior.
No alcohol, tobacco, or drugs.
No weapons.
Leave no trash behind.
Set a proper example of sportsmanship.4
The AYSO soccer program is designed for the entire family. Parents can be coaches and referees, and the programs are run by registered volunteers. Training for volunteers to gain the knowledge they need to fill their positions including administrative and management training is available in workshops, webinars, and online courses.5
To address the growing need for child and volunteer protection in youth sports, AYSO instituted a program called Safe Haven. The program requires all volunteers to complete an application every year and agree to background investigations. Every volunteer is required to take AYSO's Safe Haven training and be trained for their jobs. Volunteers are also asked to help promote safety and injury prevention by recognizing common risks and emergency medical conditions.6
AYSO is structured by Regions, Areas, and Sections. A Region is a community-based league that could range in size from less than one hundred players to several thousand. Each Region is run by a volunteer Regional Commissioner and a volunteer Regional Board. A group of Regions combine to form an Area. Area Directors support each of their regions, which could be close to one hundred areas nationwide. The country is divided into fourteen geographic Sections based on player population. Section Directors are responsible for activities in their respective Section. A National Office located in Torrance, California has approximately 50 staff members who support the AYSO programs.
There are programs designed to offer soccer for different age groups and athletic needs and capabilities. AYSO Playground is a program for children 3 to 5 years of age as well as the Jamboree, or the U-5 program, for 4 years old, which are designed to help them learn basic soccer skills. Core is the standard soccer program that spans the U-6 to U-19 age divisions, which is typically separated by gender, although some co-ed programs are offered in some areas. There is also a more advanced program called EXTRA for those who are interested in a more serious level of soccer. These players still adhere to the same core values of AYSO and the Six Philosophies.7
The American Youth Soccer Organization was established in 1964 in the Los Angeles area by founder Hans Stierle, a manager of a German-American sports and social club that had a men's soccer team in the area's ethnic league. Wishing to develop a program for children to play soccer, with his two sons' help he began to form teams for his new organization. From the earliest beginnings he set out to ensure his program would provide fun for all players by creating the "Everyone Plays" concept. He designed a lineup card that divided the game into quarters, which made it easy for coaches to be sure to play each child at least half the game. The program was set up to be run by volunteers to keep youth sports affordable and community-based.8
In 1971, the first girls program was developed and has grown until approximately 40 percent of the AYSO's players are girls. Also in the mid-1970s the first child with Down Syndrome was welcomed into the organization. As a result of this, soccer was eventually introduced into the Special Olympics.9 AYSO developed the VIP (Very Important Player) program to provide every child the opportunity to play soccer regardless of physical or mental challenges, including players who are visually impaired, or who have limited mobility, autism, Down Syndrome, or cerebral palsy. The VIP players are paired with "buddies" to help them on the field with the goal of providing a fun experience that helps them gain confidence, learn teamwork, and enjoy physical exercise.10
AYSO started offering soccer camps in 2004 to provide professional coaching with AYSO standards. There are a variety of programs available including full-day, half-day, and mini camps, as well as specific skills clinics and advanced training camps.11 A week-long AYSO Residential Soccer Camp is offered to players between the ages of 12 and 15 to not only teach them about soccer, but also to help them learn leadership and life skills.12
Since 1988, AYSO has conducted an annual week-long festival of soccer competition called the National Games. A National Games Lottery Draw is done each year resulting in invitations extended to hundreds of players from different Regions, Areas, and Sections to participate. The focus is on sportsmanship, team spirit, and making new friends.13
1. "What is AYSO?" American Youth Soccer Organization. < http://www.ayso.org/aboutayso/What_is_AYSO_.htm > 27 July 2016.
2. "AYSO's Six Philosophies." American Youth Soccer Organization. < http://www.ayso.org/aboutayso/ayso_philosophies.htm > 27 July 2016.
3. "Codes Of Conduct – Be A Good Sport." American Youth Soccer Organization. < http://www.ayso.org/For_Families/parents_abc.htm#3 > 27 July 2016.
4. "About Kids Zone." American Youth Soccer Organization. < ww.ayso.org/For_Families/kids_zone/About_Kids_Zone.htm > 27 July 2016.
5. "For Volunteers." American Youth Soccer Organization. < http://www.ayso.org/For_Volunteers.htm > 27 July 2016.
6. "Safe Haven FAQ Driven By Continental." American Youth Soccer Organization. < ww.ayso.org/For_Volunteers/resources/Safe_Haven/Safe_Haven_FAQ.htm > 27 July 2016.
7. Op. cit., "What is AYSO?"
8. Woitalla, Mike. "Youth Beat: AYSO-The Volunteer Model Lives On." Soccer America. < http://www.socceramerica.com/article/32991/youth-beat-ayso-the-volunteer-model-lives-on.html > 27 July 2016.
9. "History." American Youth Soccer Organization. < ww.ayso.org/aboutayso/history.htm > 27 July 2016.
10. "About VIP." American Youth Soccer Organization. < http://www.ayso.org/For_Volunteers/programs/VIP/About_VIP.htm > 27 July 2016.
11. "About AYSO Soccer Camps." American Youth Soccer Organization. < http://www.ayso.org/For_Families/camps/about_us.htm > 27 July 2016.
12. "Residential Camp." American Youth Soccer Organization. < http://www.ayso.org/For_Families/camps/residential_camp.htm > 10 Aug. 2016.
13. AYSO National Games. < http://aysonationalgames.org/ > 10 Aug. 2016.