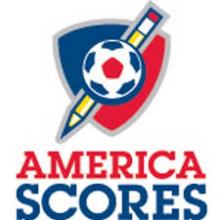 America SCORES is an urban youth program that combines team-based soccer leagues, poetry appreciation and writing curricula, and youth-led civic service projects. Their goal is to "inspire urban youth to lead healthy lives, be engaged students, and have the confidence and character to make a difference in the world." The coaches, teachers, and directors assist the youth to have positive experiences "on the field, in the classroom, and in the community."1
In 1994 Julie Kennedy, an elementary school teacher in Washington, D.C., began teaching soccer to her students after school to give them an alternative to the dangers of street life and gangs. When the weather wouldn't allow outside activity, she taught the students how to write and perform poetry. After noticing an increased interest in school and in being physically active, Julie added student-led service projects for their neighborhoods.2
As Julie noticed her students developing confidence and hope, her ideas spread and other schools in the D.C. area began to implement the program. By 1999 America SCORES had expanded to 12 schools in the D.C. area and had started to spread across America, beginning with Boston, Massachusetts (1999) and Denver, Colorado (2000).3 Each year the program continued to reach other large cities with Chicago, Illinois and San Francisco, California opening programs in 2001; New York City in 2002; and Los Angeles, California and Seattle, Washington in 2003.
At this time, America SCORES published their national soccer curriculum and implemented affiliate agreements to organize the growing national non-profit movement. The following year, in 2004, they provided their affiliates with a Replication Manual and a middle school program.
America SCORES programs continued to spread in 2004 with new programs in Cleveland, Ohio; Milwaukee, Wisconsin; and Dallas, Texas. St. Louis, Missouri became the next affiliate in 2005 while the San Francisco program expanded into nearby Oakland, California and the Washington, D.C. program began to include middle schools. In 2006 Atlanta, Georgia opened a program and in 2007 Boston and Los Angeles both expanded to involve middle schools. Since this initial growth of 13 affiliate programs in 12 years, America SCORES has been established in Portland, Oregon and West Contra Costa, California.
To keep pace with this rapid growth, the national office began a teacher training program in 2005, and they added an America SCORES Jr. curriculum for K-2 students in 2010. They established a National Day of Service and the National Poetry SLAM! in 2006 and now publish Kicker!, a quarterly magazine available at their website.
As a natural extension of their poetry curriculum, America SCORES began in 2006 to collaborate with the American Society of Composers, Authors and Publishers (ASCAP) and offer a national songwriting mentorship program.4 Through three workshop sessions led by professional musicians the students learn how to express, perform, and copyright their poetry within the music industry. Beginning in 2010 these workshops have resulted in commercial CDs, written and performed by America SCORES students and their musician mentors.
America SCORES' holistic program utilizes the inclusive sport of soccer to teach sportsmanship, discipline, problem solving, and teamwork as well as to encourage physical activity and to combat childhood obesity. They cover all the National Health Education Standards and the National Standards for Physical Activity developed by the National Association for Sport and Physical Education (NASPE).5 America SCORES also publishes Obesity News to provide current information for parents and program directors on healthy eating and physical activity.6
A second part of their holistic program involves studying, writing, and performing poetry for the development of creative thinking, literacy, and speaking skills. In the fall the curriculum, The Power of Poetry, teaches the students to write and perform their own words as well as reading, interpreting, and discussing diverse poetry genres.
In the spring the third part of America SCORES' program involves the curriculum: The Writing for the Community, which guides the students to community awareness and a service-learning project.7 Together these curricula cover the requirements of the K-12 Standards for the English Language Arts developed by the National Council of Teachers of English and the International Reading Association and the K-12 Service-Learning Standards developed by the National Youth Leadership Council.
America SCORES targets lower income neighborhoods where soccer teams, recreational programs, and after-school programs do not exist. To qualify they must have the support of the local elementary and middle schools and must involve equally girls and boys.8 For those cities who qualify there is a five step process for establishing an affiliate program.
In 2007 the Philliber Research group evaluated America SCORES and found the program was effective in "fighting obesity, promoting literacy, and increasing school engagement among urban youth."9 Recognizing how they encourage youth's creativity and intellectual development, they won the 2008 Coming Up Taller Award given by the President's Committee on the Arts and the Humanities.10
1. "Overview." America SCORES. < http://www.americascores.org/about-us/overview > 11 Feb. 2013.
2. "History." America SCORES. < http://www.americascores.org/about-us/history > 7 April 2013.
3. "Inspiring Leaders of Tomorrow, 2010 Annual Report: America SCORES Timeline." America SCORES. < http://www.americascores.org/wp-content/uploads/2011/04/AnnualReportFinalFY10.pdf > 7 April 2013.
4. "ASCAP Songwriters." America SCORES. < http://www.americascores.org/news-and-events/ascap > 7 April 2013.
5. "Soccer and Health." America SCORES. < http://www.americascores.org/resource-center/soccer-and-health > 7 April 2013.
6. "Obesity News." America SCORES. < http://www.americascores.org/resource-center/obesity-news > 7 April 2013.
7. "Literacy and Service." America SCORES. < http://www.americascores.org/resource-center/literacy-and-service > 7 April 2013.
8. "Start a Program." America SCORES. < http://www.americascores.org/about-us/start-a-program > 7 April 2013.
9. Op.cit., "Inspiring Leaders of Tomorrow."
10. "Program." America SCORES. < http://www.americascores.org/about-us/program > 11 Feb. 2013.