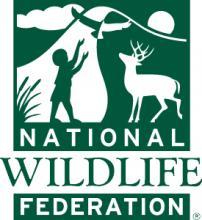 Sponsored by the National Wildlife Federation, the Schoolyard Habitats program reconnects children to nature through outdoor classroom environments that attract and support local wildlife. Wildlife habitats on school grounds encourage students to use their academic skills, curiosity, and creativity to learn about local ecosystems and wildlife species.
In 1973 the National Wildlife Federation (NWF) created the Backyard Wildlife Habitat program, now known as the Certified Wildlife Habitat, for families and communities. Years later in 1996 they launched the Schoolyard Habitats program, a similar program designed especially for schoolyards, to promote wildlife conservation with cross-curricular learning.1
Both of these programs require that habitats include the necessary food, water, cover, and refuge space for the wildlife to raise their young.2 The habitats can be as small as planter boxes or as extensive as native prairies or wetlands, and the "students" involved can be as young as preschoolers and as mature as senior citizens.
Creating a schoolyard habitat involves forming a habitat team; studying geophysical, ecological, and human components and choosing a habitat site; identifying goals, inventory, and assignments; and involving the local community.3 Schoolyard Habitats integrate science, geography, social studies, math, and English concepts to "both support and deepen the quality of instruction and student engagement."4 It is another opportunity for "blending play and teaching."5
When the new ecosystem is established, certifying a schoolyard habitat is through an online application process. Once a program is certified, they receive national recognition, an official press release, an official sign for the habitat, a quarterly online newsletter for educators, and resources through guides, webinars, and blogs.6 There are certified Schoolyard Habitats in all American states and internationally in Italy, Thailand, and the United Kingdom.
1. "Schoolyard Habitats." National Wildlife Federation. < http://www.nwf.org/How-to-Help/Garden-for-Wildlife/Schoolyard-Habitats.aspx > 8 April 2013.
2. "Certify Your Schoolyard Habitat." National Wildlife Federation. < http://www.nwf.org/How-to-Help/Garden-for-Wildlife/Schoolyard-Habitats/Certify-Your-Schoolyard.aspx > 8 April 2013.
3. "Create a Schoolyard Wildlife Habitat." National Wildlife Federation. < http://www.nwf.org/How-to-Help/Garden-for-Wildlife/Schoolyard-Habitats/Create.aspx > 8 April 2013.
4. "Academic Benefits of Schoolyard Habitats." National Wildlife Federation. < http://www.nwf.org/How-to-Help/Garden-for-Wildlife/Schoolyard-Habitats/Benefits/Academic-Benefits.aspx > 8 April 2013.
5. Coffee, Stephen R. "Down By the Schoolyard." National Wildlife Federation. < http://www.nwf.org/How-to-Help/Garden-for-Wildlife/Schoolyard-Habitats/Benefits/Down-By-the-Schoolyard.aspx > 8 April. 2013.
6. Op.cit., "Certify Your Schoolyard Habitat."