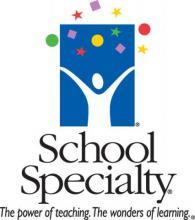 School Specialty is an education company that provides proprietary products, programs, and services to help educators engage and inspire students of all ages and abilities to learn. The company designs, develops, and provides preK-12 educators with curriculum, supplemental learning resources, and school supplies. Working in collaboration with educators, School Specialty reaches beyond the scope of textbooks to help educators, guidance counselors, and school administrators encourage students to reach their full potential.1
School Specialty was formed after Ed Schrage, a local Appleton, Wisconsin businessman, sold Universal Paper, which was primarily a paper merchant, but which also operated a small division that sold school supplies. Selling the paper side of the business and keeping the school supplies business, Ed renamed his new company Valley School and Office Supply, which was later shortened to Valley School Supply. After about a year running the business, he brought in a group of five local investors to share ownership in the fledgling company, and a short time later left the company entirely, selling his interest to the other investors.
Over the course of the next two decades beginning in the mid-1960s, Valley School Supply embarked on a diversification effort that involved actions such as opening retail stores and selling to churches. However, the non-core businesses were money losers, and by 1988 the company was struggling financially. It was at this time that one of the investors, John Spalding, convinced the other investors to hire his son Dan as Chief Executive Officer. Dan was given the task of turning the company around and the modern era of the company was ushered in.
Dan Spalding had been CEO of nearby JanSport, a rapidly growing supplier of backpacks and apparel, which Dan and his partner had acquired in 1980. During the first five years of JanSport ownership, Dan orchestrated a dramatic increase in sales by dropping non-core product lines and executing a national distribution strategy for the company's backpacks. In 1988, he brought that same successful business strategy to Valley School Supply, selling off businesses that were losing money, and refocusing the company to achieve a national presence in its primary school supplies and furniture markets.
After a number of acquisitions from 1988 to 1994 to expand Valley School Supply's geographic presence, in 1995, the company purchased School Specialty Supply in Salina, Kansas and assumed the company's name becoming School Specialty, Inc.
Much has transpired for School Specialty since the mid-1990s. About 50 acquisitions were completed over a 13-year period, and School Specialty was sold to U.S. Office Products in 1996. Two years later, School Specialty was spun off from U.S. Office Products, once again becoming an independent company, but this time as a public company traded on the Nasdaq stock exchange. A dark chapter in the company's history was to follow with the sudden and unexpected death of CEO Dan Spalding at the age of 47. He was stricken by a fatal heart attack while on a ski vacation in Colorado in March of 2002.
Typical of Dan's business preparedness, he left behind a strong management team that kept the company focused and moving forward. He was succeeded in 2002 by Dave Vander Zanden, who had worked closely with Dan the previous four years as Chief Operating Officer.2
Dave retired in 2012, and Michael P. Lavelle was appointed president, CEO, and a member of the Board of Directors. Michael was formerly the President of the Education Group of Houghton Mifflin Harcourt and has extensive experience in the educational publishing business.3
1. "Corporate Profile." School Specialty. < http://phx.corporate-ir.net/phoenix.zhtml?c=72100&p=irol-homeProfile&t=&id=& > 8 Feb. 2012.
2. "School Specialty, Inc." Funding Universe. < http://www.fundinguniverse.com/company-histories/School-Specialty-Inc-Company-History.html > 26 Jan. 2012.
3. "School Specialty, Inc. Appoints Michael P. Lavelle as New President and CEO." School Specialty. < http://phx.corporate-ir.net/phoenix.zhtml?c=72100&p=RssLanding&cat=news&id=1647562> 8 Feb. 2012.