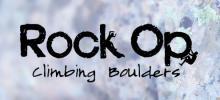 Rock-Op Climbing Boulders designs, cuts, delivers, and installs climbing boulders for playgrounds and water play spaces. These sandstone boulders are customized for different levels of climbing abilities, space requirements, and desired added playground features. Rand Myrick founded Rock-Op to "create an environmentally friendly way for people to appreciate the authentic art of climbing in any setting or location."1
Rand established Rock-Op Climbing Boulders in 2008 after observing how some children preferred climbing a boulder in the river rather than rafting the river. He became trained as a rock mitigator and a stone mason in order to sculpt climbing boulders for play spaces. He also learned to anchor decks, slides, bridges, and rope ladders to boulders to expand their play value in playgrounds.
With quarries in Colorado, Oregon, Vermont, and Arkansas, Rock-Op Climbing Boulders began delivering custom boulders to playgrounds in 2011.2 The company is headquartered in Durango, Colorado, and offers Stand-alone Boulders, Boulder Playgrounds, and Boulder Splash play spaces.
Stand-alone Boulders brings the sport of bouldering to cities and recreational parks with boulders that range from three to thirty feet tall and featuring hand holds for all climbing abilities. Because no ropes are necessary, five to ten climbers can participate at the same time in either indoor or outdoor settings. Anchored ramps and rope ladders are also available to assist climbers.3
Boulder Playgrounds feature sandstone boulders with anchored playground equipment, such as slides, ramps, spiral poles, net ladders, and decks.4 The boulders have a range of climbing challenges from gentle slopes to overhangs and steep slopes.
Combining boulders and water, Rock-Op's Boulder Splash features colored boulders, bridges, slide poles, zip lines, rope ladders, and slides to create a play space in a pool.5
Rock-Op's use of real sandstone rock supports the movement to reintroduce children to the natural world in their play.
1. "Nobody's More Experienced." Rock-Op Climbing Boulders. < http://www.rock-op.com/rockop/aboutus.html > 2 Feb. 2012.
2. Myrick, Rand. Private correspondence to Playground Professionals. 3 Feb. 2012.
3. "Stand-alone Boulders." Rock-Op Climbing Boulders. < http://www.rock-op.com/rockop/standalone.html > 2 Feb. 2012.
4. "Boulder Playground." Rock-Op Climbing Boulders. < http http://www.rock-op.com/rockop/playground.html > 2 Feb. 2012.
5. "Boulder Splash." Rock-Op Climbing Boulders. < http://www.rock-op.com/rockop/bouldersplash.html > 2 Feb. 2012.