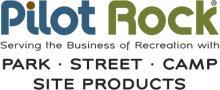 The RJ Thomas Manufacturing Company, Inc. designs and manufactures the Pilot Rock brand of products. They offer outdoor park, landscape, streetscape, recreational facility, and campground furnishings as well as custom signs and graphics.
R.J. Thomas, after designing and manufacturing tractors and loaders for other companies, incorporated his own company on May 1, 1959 with his wife, Doris. He opened for business near Cherokee, Iowa to manufacture his invention, the Pul-Ver-Rooter, a farm machine that simultaneously cultivated and plowed corn and cotton fields.
Besides designing farm equipment, RJ also designed and built park grills for Martin's Access County Park in Cherokee County, Iowa. From there they expanded to picnic tables and benches. In the mid-1970s RJ closed his farm equipment line and devoted all resources to their new Pilot Rock recreation and park equipment products. Their products were named after a massive glacial rock, Pilot Rock, that was across the highway from their factory.
They began with RJ designing and overseeing production; Doris managing sales, finances, and the office; and their four children assisting. Sons Craig and Steve eventually assumed management roles while daughters Linda and Cheryl remain involved as co-owners and members of the board. Craig, an engineer, oversees the manufacturing, research, designing, productivity, and facility expansion. Steve, with a business degree, manages the finances, employees, sales, and public relations.
RJ Thomas Manufacturing Company grew and expanded partly through keeping current with new materials and processes and partly through automating and modernizing their facilities. Beginning in 1980, their original factory has been expanded and enlarged at least nine times. Welding and painting processes are completed with robots and computer controlled machinery.
Though the company's entrance to the recreation industry began with government contracts, their customer base has expanded to include private campgrounds and RV parks, schools, colleges, landscape architects, golf courses, churches, commercial customers, and private homeowners.
With eight patents on products and designs, RJ Thomas Manufacturing Company continues to expand their seven basic categories: charcoal grills, campfire rings, picnic tables, benches, trash and recycling receptacles, bike racks, and site amenities.1 These categories also include products manufactured from recycled plastics and wheelchair accessible products for parks and playgrounds.2