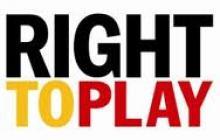 Right to Play began as an idea of the Lillehammer Olympic Organizing Committee in 1992. They organized the Olympic Aid committee in preparation of the 1994 Olympic Winter Games in Lillehammer, Norway. Specific Olympic athletes were chosen to be Ambassadors of Olympic Aid to raise money for projects in war zones or areas of distress. Projects included building a hospital in Sarajevo, assisting refugees in Afghanistan, supporting a mother/child program in Guatemala, building schools in Eritrea, and developing a support program for children with disabilities in Lebanon.1
The lead Athlete Ambassador was Johann Olav Koss, a four-time gold medal Norwegian speed skater. Johann donated a large amount of his winnings to Olympic Aid and challenged other athletes and the global community to donate money for each gold medal awarded. By the end of the Olympic Games they had raised $18 million US dollars, which made those five projects a reality.2
Two years later, Olympic Aid joined with UNICEF and raised $13 million before and during the 1996 Olympic Summer Games in Atlanta, Georgia. This money was used to vaccinate 12.2 million children and 800,000 women while the fighting in Afghanistan and northern Iraq was temporarily suspended to allow the vaccinations to be given.
By 2000, Olympic Aid had transitioned from a fundraising entity to an incorporated Non-Governmental Organization (NGO) led by Johann and based in Toronto, Canada.3 The following year, their first sport and play programs began among the communities of refugees in Angola and Côte d'Ivoire.
During the 2002 Olympic Winter Games held in Salt Lake City, Utah, Olympic Aid hosted a roundtable discussion, which included Archbishop Desmond Tutu; Dr. Jacques Rogge, the President of the International Olympic Committee; global leaders in health, sport, and development; and United Nations' Secretary General Kofi Annan as the keynote speaker.4 They focused on using sport as a tool to address the four development issues of vaccination, tobacco-free sport, HIV and AIDS prevention, and the rehabilitation of refugees.
This mission refinement was further established in 2003 when they changed their name to Right to Play and broadened their pool of Athlete Ambassadors to beyond the Olympic arena, which also widened the scope of their fundraising and sponsors. As a non-partisan, non-political organization, Right to Play became an international advocate engaging sport, business, and media leaders on all sides to secure every child's right to play.5
Right to Play continued to be active in research and policy development concerning sports and play. From 2004-2008 they served as Secretariat to the Sport for Development and Peace International Working Group (SDP IWG), a policy initiative involving 59 national governments as well as the United Nations. From this collaboration came recommendations for incorporating sports into national and international policies and programs. These recommendations were endorsed by 38 countries at the 2008 Beijing Summer Olympic Games and later passed as a resolution by the UN.6
Realizing that sports foster healthy physical, emotional, and social development as well as being able to cross ethnic, cultural, gender, and linguistic lines, Right to Play uses sports and play to teach values and life skills, to educate about disease prevention, to teach conflict resolution for building peace, and to build community leadership.7
In over 20 countries, Right to Play trains coaches in leadership, communication, conflict resolution, peace building, project management, and event organization skills in order to foster a sustainable community program centered on inclusive play and sports.8 To further support the local coaches, Athlete Ambassadors visit as role models for the children and advocates for Right to Play along with the media and sponsors. The Ambassadors, who are world class athletes, also learn first-hand of the need and effectiveness of sports and play to create social change and give children in difficult situations hope concerning their future.
A tool that the Right to Play's coaches and Athlete Ambassadors use to connect with the children and their communities is the Red Ball. Written on the Red Ball in different languages is Right to Play's philosophy: "Look After Yourself, Look After One Another." They believe this logo "reinforces that through sport we learn to take care of our mind and bodies, the importance of teamwork and cooperation, and to look after those around us."9
1. "History." Right to Play. < http://www.righttoplay.com/canada/about-us/Pages/History.aspx > 7 July 2011.
2. Ibid.
3. "At A Glance." Right to Play. < http://www.righttoplay.com/canada/about-us/Pages/AtAGlanceCon%27t.aspx > 7 July 2011.
4. The forum was entitled "Healthier, Safer, Stronger: Using Sport for Development to build a brighter future for children worldwide."
5. "Frequently Asked Questions." Right to Play. < http://www.righttoplay.com/canada/about-us/Pages/FAQ.aspx > 7 July 2011.
6. Op.cit., "At A Glance."
7. Op.cit., "At A Glance."
8. Op.cit., "Frequently Asked Questions."
9. Op.cit., "Frequently Asked Questions."