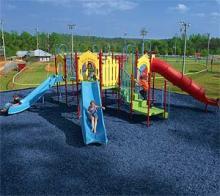 Julie Cole founded Perfect Rubber Mulch in 2000 as a division of her company Just Gardens Landscaping. Due to rapid growth over the next six years, the division became its own company, Perfect Rubber Mulch Enterprises LLC, headquartered in Jefferson, Ohio.1
Their tire recycling manufacturing plants are located in Texas, Colorado, California, Florida, Illinois, Ohio, North Carolina, Kentucky, Pennsylvania, New York, Oklahoma, and Arizona. The manufacturing plants take raw tires, extract the radial wire, and form the rubber into a 3/4"-1" nugget for playground surfaces, landscaping needs, equestrian arena footing, military training PT pits and ballistic rubber traps, and track and field artificial turf rubber infill.2
Perfect Rubber Mulch offers two mulch products for these applications: the Premium Playground 3/4" nugget and the Ultra Premium Buffing used for landscaping. Both of these mulches are 99.9% wire free and come in 2000 pound super sacks.
In addition to rubber mulches, Perfect Rubber Mulch offers bendable rubber curbs for residential and commercial applications.3
Perfect Rubber Mulch Paver tiles come in 16" by 16" squares and 24" by 24" squares. They also offer 3' by 4' swing mats, 300 foot rolls of groundcover fabric in widths of 6' - 15', and 5" U pins.
Besides these rubber mulch products and accessories, Perfect Rubber Mulch offers commercial playground designing and installation, including water fun play spaces. They are a certified government vendor with HubZone, a U.S. Small Business program from urban and rural communities that are in Historically Underutilized Business Zones.4