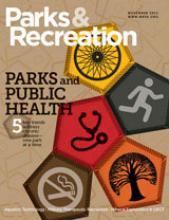 The Parks & Recreation Magazine is the recreation industry magazine for the National Recreation and Park Association (NRPA). It furthers their mission "to advance parks, recreation, and environmental conservation efforts that enhance the quality of life for all people."1 As a monthly resource, Parks & Recreation Magazine is available in both hard copy and digital formats.
When the NRPA was organized from five national park and recreation organizations in 1965, their new magazine, Parks & Recreation Magazine, was launched in January of 19662 to foster a unity in the association through communicating and networking.3 This is achieved through an Agency Spotlight on successful park programs; Kiosk of "who, what, where & how – around the parks";4 an Advocacy Update; Law Review; NRPA in Action for current association information; NRPA in Focus for in-depth information on association resources; and Operations features for new trends and solutions in recreation.
Additionally each edition has feature articles of general interest and concern within the industry and a Park Bench photo essay of recreation. There is also a Product Roundup of new goods and services, a MarketPLACE for commercial advertisers, and an index of advertisers throughout the magazine.