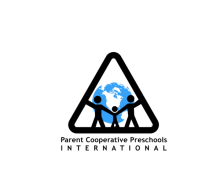 Parent Cooperative Preschools International (PCPI) is a non-profit international council, representing more than 50,000 families and teachers, which provides "on-going support to preschools, families, educators, and social agencies who recognize the value of parents as teachers of their children and the necessity of educating parents to meet the developmental needs of their children."1
A parent cooperative preschool is organized by a group of families with similar philosophies who hire a trained teacher to provide their children with a high-quality preschool experience. The preschool is administered and maintained by the parents. The parents assist the professional teacher in the classroom on a rotating basis and participate in the educational program of all the children.
Parents whose children attend a cooperative preschool become directly involved with their children's early education. They supervise all the children under the guidance of the teacher, and gain insight into child behavior by observing other children. They learn how other parents and the professional teachers handle various situations and gain greater understanding and enjoyment of their own children through active participation in their education. Parent education is a key attribute of the cooperative preschool movement. Many preschools require attendance at their parent education programs.
PCPI resolutely advocates that member preschools embrace play-based learning as the foundation of their educational philosophy. Hands-on experiences in creative arts, music, science, literature, and language are offered at developmentally appropriate levels.2
The origin of the cooperative preschool movement is credited to faculty wives of the University of Chicago who organized the first parent participation nursery school in 1916. The oldest continually operating cooperative preschool was started in 1927 in Berkeley, California. In the 1940s the movement grew across the U.S. and into Canada. Other preschools spread around the world including to New Zealand and the United Kingdom.
In 1960 Dr. Katharine Whiteside Taylor began writing and publishing about helpful practices for the classroom, and how to organize and manage a cooperative preschool. At the 1960 conference of the American Council of Social Relations at Teachers College, Columbia University in New York City, the idea of a national organization was raised, and it was decided to form the American Council of Parent Cooperatives. At the fourth Annual Conference in 1964 the name was changed to Parent Cooperative Preschools International to open membership to other countries.
Over the years, PCPI has developed many service materials for its members including books, publicity brochures, a digital newsletter and organizational materials. Resources and experiences are shared among member preschools in on-line forums and an in-person annual meeting.3
1. Parent Cooperative Preschools International. 3 March 2021.
2. "Resources." Parent Cooperative Preschools International. < https://www.preschools.coop/resources-index> 3 March 2021.
3. "About PCPI." Parent Cooperative Preschools International. < https://www.preschools.coop/about-pcpi-index > 3 March 2021.