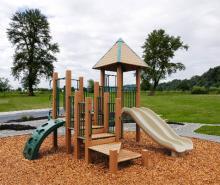 Pacific Outdoor Products began as Timber Playsystems, which Samuel Emmons founded in 1981. What started as a way "to build something for his children to play on" grew quickly and was acknowledged in 1988 as one of the Inc. 500 Fastest Growing Companies.1
Selling commercial and residential wood playstructures, Timber Playsystems' growth led to dividing the company. In the early 1990's the residential aspect of the company became Recreation Northwest, which continued to sell wooden play equipment through a small dealer network. The commercial side of the company remained Timber Playsystems. Later, SteelSystems was added, which manufactured and distributed steel playground equipment.
Pacific Outdoor Products was formed in 1996 when these two companies merged back together to offer both wood and steel commercial and residential play equipment, game court equipment, and site amenities. Located in Maple Valley, Washington, Pacific Outdoor Products is a family-owned business that services the western United States.2
Pacific Outdoor Products continues to manufacture their metal playground equipment, the SteelSystems line, for commercial playgrounds.They also have two lines of wooden playground equipment: the basic Timber Playsystems and the Premier Playsystems,which includes pyramid roofs with wood shingles. These playsystems are manufactured with non-toxic ACQ pressure-treated wood.3
In 2007, Poly Playsystems was launched, when Sam developed a line of environmentally friendly products made of 100% post-consumer recycled plastic materials.4 Utilizing a recessed, bolt-through system for assembling allows Pacific Outdoor Products to offer do-it-yourself playground installation packages for the Poly Playsystems line.
In addition to their playground equipment, Pacific Outdoor Products manufactures site furnishings, such as bike racks and barbeque grills; separate components, such as slides and walls; swings in either steel, wood, or tire; stand alone extras for both preschoolers and older children; fitness courses; and basketball standards.
Pacific Outdoor Products also offers custom playground designing by a Certified Playground Safety Inspector (CPSI). Their company goal is that "your child's playstructure should not only be a place where your children love to go, but a place where they will be challenged to develop and engage in creative play activities."5
1. Emmons, Shelley. Email message to Playground Professionals. 8 Feb. 2011.
2. "Our Mission..." Pacific Outdoor Products. < http://www.pacificoutdoor.com/Our%20Mission.aspx > 10 Feb. 2011.
3. "Timber Playsystems and Premier Playsystems." Pacific Outdoor Products. < http://www.pacificoutdoor.com/Commercial-Playgrounds-Wood.aspx > 8 March 2011.
4. Op. cit., Emmons, Shelley.
5. "Childs Play is Our Priority." Pacific Outdoor Products. < http://www.pacificoutdoor.com/PriorityOfPlay.aspx > 10 Feb. 2011.