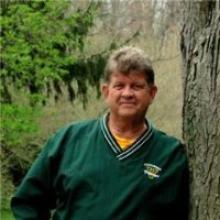 David Parker attended Kent State University and then Miami University of Ohio where in 1970 he earned a BA in Public Administration/Pre-law with an emphasis on Environmental Studies. At the same time he completed his Basic Peace Officer Certification from Ohio Peace Officer Training Commission (OPOTC).
David was also working at Hueston Woods State Park as a Conservation Aide. His responsibilities there started in 1969 as a Night Ranger, but he soon moved up to manage various areas of this nearly 3000 acre park in College Corner, Ohio, until he was the Assistant Park Manager. After his OPOTC, he established the Ohio Department of Natural Resources (ODNR) Parks Ranger Training School for the southern half of Ohio. As a result, in 1971, he received the Instructor Award from the ODNR Ranger Training School.
Starting in 1972, for the next 35 years David worked in the Metropolitan Park District in Toledo, Ohio. He was a Park Manager/Ranger for the Secor and Swan Creek Parks, and in recognition of his outstanding work, David was named the Ohio Park Ranger of the year in 1974.
Later at the Wildwood Preserve Metropark, he was Chief of Operations and Ranger Services. He managed all aspects from maintenance work to turf management to law enforcement and training for the park. He also continued his education with both the 10 and 30 hour OSHA compliance courses as well as courses concerning maintenance management, high and low pressure boiler operations, pneumatic control systems, and welding.
In conjunction with his work, David became a Certified Park and Recreation Professional (CPRP) in 1985. He was also a member of the Ohio Parks and Recreation Association (OPRA), the National Recreation and Park Association (NRPA), and the National Society of Park Resources Board of Trustees.
Within the OPRA, David was first on the Board, then over the Grounds and Facilities Maintenance School. In 1985, he joined the Executive Board where he served for 10 plus years, including being President of the OPRA in 1992. Three times he was the OPRA Annual Conference Chairman in 1991, 1996, and 2001. One of those years, 1996, he was also recognized as the OPRA Outstanding Leadership Professional.
In the NRPA, David was on the Education Program Committee for Congress from 1992-1996. During this time he became a Certified Playground Safety Inspector (CPSI) in 1993 and a National Playground Safety Institute (NPSI) Instructor in 1994. For the next nine years he taught an average of ten Institutes per year. In 2001, he became a senior instructor and used his experience to train new instructors.
David joined the NPSI Executive Committee in 1996, where he continues to be active as the Technology Chair. Two different times David has been the NPSI Executive Committee Chair: in 1999/2000 and in 2004/2005.
Continuing his concern for safety, David joined the ASTM International (ASTM) in 1998, and since then he has served on the F15.26 Committee and the F15.29 Committee.
As Director of Operations and Safety Services for the Metropolitan Park District, David established a mounted patrol operation and investigative services in the Toledo area parks. Besides being heavily involved in Ohio Park and National Playground Associations, David was also an active member in many law enforcement associations, including: the Greater Toledo Safe Kids Coalition, Lucas County Police Chiefs and Sheriff Association, the Ohio and the International Associations of Chiefs of Police, Park Law Enforcement Association, International Association of Public-Safety Communications Officials, and the Metro Toledo Criminal Justice Administrator's Association.
A year after retiring in 2007, David became a partner in Professional Playground Inspections, LLC. His years of expertise continue to be utilized there. He also continues to write concerning industry issues in national park publications and to serve on NPSI and ASTM committees.
He was appointed to the Board of Supervisors of the Lucas County Soil & Water Conservation District in 2008. He is also involved with Green Energy Ohio and specifically the American Coalition for Ethanol and National Ethanol Vehicle Coalition.1
1. Parker, David B. Personal resume and correspondence to Playground Professionals. July 2010.