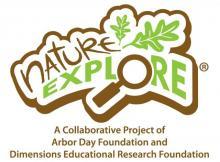 Nature Explore is dedicated to assisting children and families "develop a profound engagement with the natural world, where nature is an integral, joyful part of children's daily learning."1 Realizing that connections with nature are part of a healthy childhood and noting that many children no longer "spend unhurried hours exploring the natural world," Nature Explore provides educators, designers, and families research-based resources and play space design consultations to bring nature back into children's daily lives.2
Formed in 2007 as a nonprofit organization, Nature Explore is a joint venture of the Arbor Day Foundation and the Dimensions Educational Research Foundation and is grounded on the research that Dimensions has been conducting since 1998.3 Their research indicates that a disconnection with nature has led to increased childhood obesity, a greater reliance on behavior medications, and an unease or dislike of the natural world. Specifically, Nature Explore's on-going research and field testing have shown that learning within nature enhances visual-spatial skills, music and movement skills, language and literacy skills, social skills, math skills, art skills, and science skills, including developing close observation skills.
Through play in nature settings, children – especially those children who struggle with traditional education methods – observe, learn and correlate information; socially coordinate with others; orient themselves in spatial activities; experience geometry concretely; and develop creativity through unstructured improvisation and expression.4 To facilitate these desirable outcomes, Nature Explore assists schools, early childhood programs, nature centers, parks, and other outdoor oriented entities to design or remodel existing play spaces and become certified Nature Explore Classrooms.
Becoming certified begins with Nature Explore's design consultation services, a six step process that involves:
Selecting a planning group
Hosting a two-day design on site consultation visit by a nature trained landscape architect and a Dimensions educator
Creating a concept plan
Reviewing of the concept plan by the local planning group
Creating an implementation plan
Building the nature classroom play space5
This design process is aided by Nature Explore's Learning With Nature Idea Book, which has ten guiding principles that represent "a well-rounded mix of experiences that can and should occur outdoors for children."6 For example, they believe in separate activity areas to decrease conflict points and enhance the children's ability to focus on learning and play. Some of these play areas are building areas, music and movement areas, gathering areas, climbing areas, nature art areas, and "messy materials" areas. Another resource, the Sourcebook, includes field-tested outdoor learning components to facilitate nature play space designing.7
The nature oriented design of play spaces is one of a three prong approach to providing children with significant outdoor learning playgrounds. Nature Explore believes that even "the most well-designed outdoor space will only be as effective as the educators who support children's interactions in that space."8 Their second focus, therefore, is on providing regional or local workshops for either educators, administrators and parents or for design professionals and contractors. They recognize that both audiences can benefit from one or more of the eleven all day workshops, which include Learning with Nature, Choosing Effective Indoor and Outdoor Materials, Moving to Learn, and We Dig Dirt.
The final focus in the Nature Explore's comprehensive mission is involving the children and their families through the Families' Club.9 Whether utilized through an organization, a school, or in a neighborhood, the Families' Club Kit is designed to connect a group of families to the outdoor spaces in their community. They offer either a free downloadable kit or a pre-printed kit, which includes child-friendly activities as well as a facilitator's guide and materials.
To become a Certified Nature Explore Classroom, of which there are now more than one hundred, all three areas must be functioning and maintainable: a well-designed outdoor space using principles from the Learning With Nature Idea Book, attendance of Nature Explore Workshops by staff, and an established program of family involvement. Once they are certified, a classroom can access a supportive website, will receive a playground sign to post, and will be recognized in the local media through an official press release.10 All classroom and play spaces need to be re-certified yearly to maintain their status as a Nature Explore Classroom.
Since 2008, Nature Explore has offered a traveling exhibit to bring an interactive visual-spatial tree exhibit to expand children's experience with nature beyond their neighborhoods. Another outreach service they offer is the availability of their consultants to address educational and environmental conferences and thus advocate the Nature Explore mission, "to bring nature into children's daily learning in sustainable, significant, positive and joyful ways."11
Based in Lincoln, Nebraska, Nature Explore is a member of the Nature Action Collaborative for Children, a global organization seeking to connect children with nature, the Children and Nature Network, and the Keep America Beautiful organization.
1. "About Nature Explore." Nature Explore. < http://www.arborday.org/explore/about.cfm > 29 May 2012.
2. "What is the Nature Explore Program?" Nature Explore. < http://www.arborday.org/explore/documents/NE_FAQ_002.pdf > 29 May 2012.
3. "Nature Explore Program Launched by Arbor Day Foundation." Children's Learning Environments eNewsletter. May-August 2007, Vol. VI, No 2., at White Hutchinson: Leisure & Learning Group. < http://www.whitehutchinson.com/news/learnenews/2007_may_august/article107.shtml > 10 June 2012.
4. Op. cit., "What is the Nature Explore Program?"
5. "Design Consultation Services." Nature Explore. < http://www.arborday.org/explore/classroom/designconsultationservices.cfm > 29 May 2012.
6. Op. cit., "What is the Nature Explore Program?"
7. "Sourcebook." Nature Explore. < http://www.arborday.org/shopping/sourcebook/index.cfm > 29 May 2012.
8. Op. cit., "What is the Nature Explore Program?"
9. "Families' Club." Nature Explore. < http://www.arborday.org/explore/families/ > 29 May 2012.
10. "Certify Your Classroom." Nature Explore. < http://www.arborday.org/explore/classroom/certify.cfm > 29 May 2012.
11. "2011-2012 Resources." Nature Explore. < http://www.arborday.org/shopping/sourcebook/resourceguide.cfm > 10 June 2012.