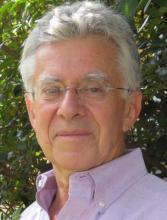 Robin C. Moore earned his diploma in Architecture from the London University in 1962. For two years after that Robin worked on a research hospital design team for the architects Llewelyn-Davies, Weeks and Partners in London. In 1966, Robin moved to Boston, Massachusetts, to earn a master's degree in City and Regional Planning from Massachusetts Institute of Technology (MIT). It was at MIT that Robin began his lifelong interest in combining environmental design, child development, and play spaces as evidenced by his master's thesis, which was on the Lenox-Camden Playground. He directed community projects for Boston Redevelopment Authority concerning residential rehabilitation and the development of local open space.
Robin returned to London and directed landscape design projects for Land Use Consultants for three years, largely in the Notting Hill area. Beginning in 1969, he taught and conducted research as an Assistant Professor of Urban Design at the University of California, Berkeley. He also published two curriculum guides and published several articles in a variety of professional publications.
In 1976, Robin left UC at Berkeley to be Director of research concerning community use of public space for People-Environment. The next year he added working for Inquiring Systems, Inc., where he directed projects on environmental improvement. In 1979, he was also teaching as Adjunct faculty for the Urban Studies Program at Stanford University. For two years he taught classes concerning community participation in environmental design and media development for community organizations. During this time, Robin took his expertise in designing outdoor environments for children, youth, and families to become a partner of Moore, Iacofano, Goltsman (MIG, Inc.) in Berkeley.
Thus began his thirty year involvement with Play and Learning in Adaptable Environments (PLAE, Inc.) as a director of research concerning the community integration of children with special needs. A decade later he serviced on the Architectural and Transportation Barriers Compliance Board of the US Department of Education concerning the Accessibility Standards for Children's Environments.
The National Endowment for the Arts was the first, but not the last, to recognize Robin's research with their Exemplary Achievement in Environmental Design Research Award in 1983. He had conducted 13 research projects over the previous 16 years. In 1986, Robin became the Chair of the Environmental Design Research Association and his first book, Childhood's Domain: Play and Place in Child Development, was published. Two years later in 1988, his second book was published: Play for all Guidelines: Planning, Design, and Management of Outdoor Settings for All Children.
Moving to the east coast in 1989, Robin was a founding director of the Center for Universal Design in the College of Design of North Carolina State University. At this time he joined the Board of Directors of the North Carolina-Cochabama, Bolivia of Partners of the Americas. A year later in 1990, he was President of the International Association for the Child's Right to Play, which he led for six years.
Besides being involved internationally concerning play space needs and designs, he also assisted with the technical review of the U.S. Consumer Product Safety Commission's Playground Equipment Safety Handbook in 1990.
The 1990s was a decade of teaching Landscape Architecture, designing with MIG, authoring or co-authoring four books, and continuing research in both the United States and South America. Among the books published was the classic, The Complete Playground Book, co-authored with A. Brett and E. Provenzo in 1993.1 Robin also received the Governor's Community Service Award from the State of North Carolina in 1992 and the Faculty Research Award from the School of Design of North Carolina State University in 1998.
As an extension of the College of Design where Robin was teaching, in 2000 he became and continues to be the Director of the Natural Learning Initiative (NLI), which is dedicated "to help communities create stimulating places for play, learning, and environmental education - environments that recognize human dependence on the natural world."2 One of NLI's projects was the Preschool Outdoors Environment Measurement Scale (POEMS), which began in 2001 and was published in 2005. Robin was one of the experts that created checklist evaluations of the outdoor play spaces of childcare centers concerning children 3-5 years old. POEMS became a valuable aid to assess quality play environments for educators, researchers, designers, funding agencies, contractors, and policy makers.
During this decade (2000-2010), Robin has been increasingly asked to lecture internationally, such as in Japan, Sweden, Denmark, and many countries in South America: Brazil, Argentina, Columbia, Uruguay, Venezuela, and Chile. As a member of the United Nations Educational, Scientific and Cultural Organization (UNESCO) Management of Social Transformations (MOST) Growing Up in Cities (GUIC) action program he co-directed the Buenos Aires project and coordinated the Middle East and North Africa program in Amman, Jordan.
In focusing on the evaluation and design of urban parks and recreation spaces, Robin is bringing his expertise in child development, landscape architecture, and environmental education to communities and universities around the world.
1. The other books published were: Plants for Play: A Plant Selection Guide for Children's Outdoor Environments, 1993; Play from Birth to Twelve: Contexts, Perspectives, and Meanings, co-authored with M. Guddemi and T. Jambor in 1997; and Natural Learning: The Story of the Washington School Environmental Yard, co-authored with H. Wong in 1997.
2. "About Us." Natural Learning Initiative. < http://www.naturalearning.org/aboutus/aboutus.htm > 3 Oct. 2010.