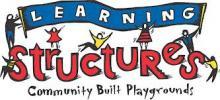 Learning Structures began in 1971 when a young architect named Christopher "Kit" Clews was smitten by a young schoolteacher. The teacher asked Kit if he could design a playground for $100. Using friends, family, and parents of the children who attended the school, Kit designed and constructed a playground and came in under budget! Word spread among the teaching community in New Hampshire, and soon Kit began taking requests for custom-designed adventure playscapes all across New England. The schoolteacher became Mrs. Noele Clews.
With a Masters in Architecture from the University of Pennsylvania, Kit's playground designs won broad acclaim throughout the United States. He was featured in Child Magazine and on the Today Show. In 1986, Kit was awarded a Loeb fellowship from Harvard University for his contributions to the community-built movement.
Nearly four decades later, Learning Structures has worked with 1500 communities and 100,000 volunteers creating unique play spaces that highlight each community's special features or attractions. Utilizing a three-pronged criteria, Learning Structures' play spaces are designed with children, made with local materials, and built by neighborhood volunteers.
It all begins with Planning Day. Learning Structures employees make an on-site assessment of the play area and start the children brainstorming. Then they meet with interested adults for their feedback on the children's designs, collaborate with the local playground committee to assist with organizational needs, and present a fixed all-inclusive cost estimate. After pulling all the day's ideas together, an evening presentation is given of the vision for the new playground. Learning Structures also provides organizational manuals for all stages of the playground realization processes, such as fund raising, public relations, gathering and organizing volunteers, procuring materials and tools, and post construction maintenance.1
Detailed 3D plans are generated to assist with fund raising and enlisting community volunteers. Incorporated in these plans are the designs that the community decided on as well as such professional concerns as circulation routes, age appropriate play areas, and existing landscape features. Learning Structures employees are certified as a  Certified Playground Safety Inspector (CPSI) through the National Recreation and Park Association (NRPA) and ensure compliance with industry safety standards both during the designing and the construction phases.
Learning Structures encourages buying materials locally to assist the community's economy. It is also one of the ways they are able to provide play spaces for less cost than pre-manufactured designs. Learning Structures focus on natural and recycled materials, including environmentally-friendly lumber, TREX, or plastic lumber, and utilizes the flexibility of these materials in custom building equipment to fulfill the community's designs.2 They also capitalize on wood's economy, softer touch, temperature neutral properties, and ability to blend into existing landscaping. A clear polymer sealer (EPL sealer) is used to reduce maintenance, weatherize, protect the structures, and diminish fading.
Learning Structures says "the fun is in the making."3 This becomes really obvious during the three to five days of construction during which their staff mentors the community volunteers through the phases: structural framework, assembling playground elements, and finishing details, including safety surfacing.
During the final day, Learning Structures' CPSI's do a final safety check and leave the community with their Safety Net Program, which helps them set up regularly scheduled inspections, maintenance, and educational activities to teach children playground safety. On their website there are links, resources, a safety checklist, and an ongoing blog for further information and support.
The resulting Learning Structures' play spaces have been featured on the Today Show and on regional Top 10 playground lists. Another feature of Learning Structures' designing abilities is their expertise with Leadership in Energy & Environmental Design (LEED) guidelines for creating a third-party certified "green" building and playground.
1. "Key Points." Learning Structures. < http://learningstructures.com/keypoints.asp > 23 Aug. 2010.
2. TREX is a 100% post-consumer waste recycled material. For lumber, they use Dense Select Structural Southern Yellow Pine, Kiln-dried after treatment, and arsenic-free.
3. "About Learning Structures." Learning Structures. < http://learningstructures.com/about_us.asp > 23 Aug. 2010.