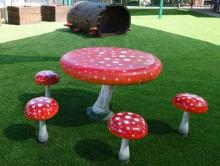 Founded in 2002 by Sascha Joffe and Alan Groves, Jungle Play (formerly traded as Art Dinouveau)1 is a commercial art and sculpture company specializing in nature-inspired play equipment and botanical concept furniture. Their larger-than-life range of artistic play sculptures has been designed in their jungle-surrounded studio in Queensland, Australia and brought to life by a team of sculptors, artists, and craftsmen.
The creative brain behind the Jungle Play's play sculptures, Alan Christopher Groves started out in the model-making and special effects industry. His work has been featured in Star Wars, The Chronicles of Narnia, Labyrinth, Red Dwarf, Moulin Rouge and many others. Today Alan sculpts and paints each play item, painstakingly recreating the subtlest detail present in nature and presents them in artistic, child-friendly forms and colors.
Sascha combines her lifetime of industry experience through her family's history around making play equipment with a degree in business and an artistic eye for good design. Sascha designs Jungle Play's custom playspaces and works with playground designers to help them make the best use of the play equipment for their projects and manages playspace installation.
Inspiration for Jungle Play pieces most often comes from nature, creating play equipment, such as their Microcosm Natural Play Collection, that re-interprets the minute as giant sculptures that make children feel like they have shrunk in size to play among the tiny creatures of the garden. Children are encouraged to explore a hollow log, leap over a native frog, climb aboard a Monarch caterpillar, ride a giant rainforest snail, and even slide down the abdomen of a shimmering dragonfly.
Children's literature is another source of inspiration with examples, such as the Bush Baby Play Range based on the age-old tales of "Snugglepot and Cuddlepie" by beloved Australian author, May Gibbs. Gum Leaf Pod Playhouses, Gum Leaf Benches, Gum Blossom Stools, Gumnut Armchairs, and Climbers are all part of the collection.
In addition to the collection of off-the-shelf play sculptures, Jungle Play also collaborates with designers, architects and certifiers to conceptualize and build custom-designed, industry-compliant indoor and outdoor play spaces.2
All Jungle Play design prototypes are created in-house, which begin with a small-scale model sculpted to see how the design will actually look when built. The miniature sculpture is then assessed by their equipment and playspace certifier to ensure there are no potential hazards and that the piece will comply with European Standards (EN) standards. Once approved the design is then sculpted in clay or plasticine to enable a mold to be created using silicone rubber and a fiberglass jacket. Then the piece is cast in gelcoat, resin, and fiberglass, and then painted and clear-coated with varnish.3
Public and private playspaces that include Jungle Play play equipment include The Happy Garden at Sydney Children's Hospital, Lady Cilento Children's Hospital Playspace, The Gumnut Garden at A.B. Paterson Learning Centre, and Lehman's Farm Custom Playspace among many others. Playspaces are created with the intention of fostering a love for nature and for inspired, inclusive play among children of all ages and abilities.