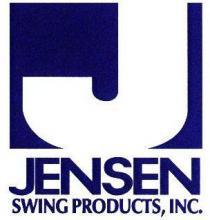 Jensen Swing Products is a wholesale playground equipment company that specializes in swings and swing set parts and accessories. They also offer playground equipment in the style of forts that can contain other elements, such as slides, tunnels, play panels, and climbing structures, as well as teeter totters and spring riders.1 With a strong commitment to safety in the manufacturing of their play pieces, they believe that "Where there is durability – strength and quality – there is safety."2
Clifford Jensen founded Jensen Swing Products, Inc. in 1946 in Los Angeles, California, where they remained for fifteen years. In the early 1960s, the company relocated to Pacific Beach, California. By 1985, when Clifford died, they were producing eight products, including a hay hook.
Charles Ciraolo, who enjoyed "creating, improving, and expanding businesses," bought Jensen Swing Products soon after Clifford's death. Charles retained the Jensen company name and within six months expanded to a larger warehouse in El Cajon, California. Their product line was expanded under Charles' inventiveness to include bright colored swings and new designs for swing seats, hangers, and slides.
In 1990, as Jensen Swing Products continued to grow and develop new products, they moved to a larger warehouse in Santee, California. By 2002, they custom built an even larger warehouse for the company to fit their growing needs. While Charles leads the product line creation and development, his daughters lead the company: Charvet Ciraolo is President and Sally Ciraolo is Vice-President. Besides restricting their sales to retailers and manufacturers, they have also chosen to not diversify beyond basic playground equipment.3