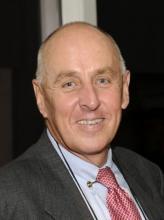 Robert Heath was born in England, educated in Scotland, and worked in Australia before coming to the United States in 1968. While working as a commentator for equestrian events in the United Kingdom, Robert noticed how the shredded wood fiber in the training tracks and in the breeding sheds was "quiet and soft."1 He decided to bring the idea to the United States.
Robert first refined the manufacturing process and in 1979 began developing the market for his Fibar Engineered Wood Fiber. Through his company, Fibar, Inc., Robert surfaced 60 training tracks over the next six years.
While at an Ohio nursery show in 1985, Robert heard a comment that his product would make a good playground surface.2 Within a year he had developed The Fibar System for playground safety surfacing. Robert has been awarded four patents for this system, now called the FibarSystem 300.
Also in 1986, Robert was on the ASTM International (ASTM) Subcommittee F08.63 Playground Surfacing, which drafted the F1292 Standard Specification for Impact Attenuation of Surface Systems Under and Around Playground Equipment. Setting the standard in writing as well as in practice, Robert's company, Fibar, utilized only virgin scrap, untreated, bark-free, raw materials for the manufacturing of the FibarSystem.
Twelve years later he was the chairperson over the same ASTM subcommittee and helped pass three more standards: ASTM F1951 Standard Specification for Determination of Accessibility of Surface Systems Under and Around Playground Equipment, ASTM F 2075 Standard for Engineered Wood Fiber for Surface Systems Under and Around Playground Equipment, and ASTM F2223 Standard Guide for ASTM Standards on Playground Surfacing. Robert served as chairperson on this subcommittee for the ten years between 1998 and 2008.