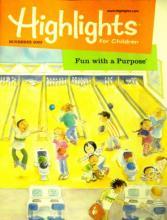 The Highlights magazine is a children's publication dedicated to assisting them in acquiring basic skills and knowledge, developing the ability to think and reason, fostering creativity, encouraging sensitivity to others, and choosing high ideals as a way of living. They believe in having "Fun with a purpose" and in printing only the best material – the "highlights" - for children ages 0-2, 3-5, and 6-12 years.
Garry Cleveland Myers and his wife Caroline Clark Myers created Highlights after full careers as teachers, lecturers, and leaders in education and childhood development. Instead of retiring in 1946, they used their savings to launch their "dream" magazine in June of that year.1 As a founding philosophy they utilized positive examples in stories and activities to help children to "become their best selves - creative, curious, caring, and confident."2
Some of the magazine features from the beginning days include the Hidden Pictures (1946) challenge to find small objects hidden in a larger picture and the Goofus and Gallant (1948) characters that contrast social conduct choices. In 1951 The Timbertoes, a comic strip style story of a family of wooden people, was added.
Other regular features included a variety of fiction stories, poetry, science articles, artwork, puzzles, jokes and riddles, brain teasers such as "What's Wrong?," craft projects, and reader's letters, drawings, and poems. A spotlight on children involved in community service, Gallant Kids, was begun in 2004 and an advice column, Ask Arizona, was added in 2005.3 In every issue each article or activity is rated for its reading level and marked if it involves creative thinking or teaches moral values. Any article that has a corresponding interactive version on HighlightsKids.com is also noted.
Highlights has received recognition and awards from many education, parenting, and industry organizations, such as The Association of Educational Publishers, National Association for Gifted Children, Parents' Choice, Magazine Design and Production, and National Parenting Center.4
Headquartered in Columbus, Ohio, with editorial offices in Honesdale, Pennsylvania, Highlights has been publishing for children, "the world's most important people," for more than 60 years.5
1. "Founders Biography." Highlights. < http://www.highlights.com/founders-biography > 3 Aug. 2012.
2. "Company Values." Highlights. < http://www.highlights.com/about-us/company-values > 3 Aug. 2012.
3. "Highlights Magazine Fact Sheet." Highlights. < http://www.highlights.com/highlights-magazine-fact-sheet > 3 Aug. 2012.
4. "Awards." Highlights. < http://www.highlights.com/about-us/awards > 3 Aug. 2012.
5. "Company Facts." Highlights. < http://www.highlights.com/company-fact-sheet > 3 Aug. 2012.