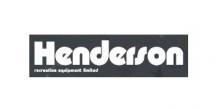 Nearly 40 years ago, Gordon C. Henderson founded the Henderson Recreation Equipment, Ltd. in Simcoe, Ontario, Canada. Initially offering a steel square post playground called PlaySteel, the company has expanded to offer a PlaySteel line, a PlayWood line, a PlayTots line, Mighty Shades, Site Amenities, and Freestanding Play components, including the Geodes and the Orbis.1
The PlaySteel² is the updated original playground design with more component choices but the same 4" square 11 gauge Allied Flo-Coat galvanized steel-capped posts. The 46 ½" 12-gauge decks and components are bolted directly with their Bolt-N-Go connection system.
For larger play spaces, Henderson Recreation offers the PlaySteel Max line with 48" decks, 5" posts, and the Direct-Connect bolting system. For smaller budgets, they offer the PlaySteel Fit line with 3.5" posts and the Direct-Connect system. And for preschoolers, they have the PlayTots line of HDPE plastic components with 2.5" square posts using the Bolt-N-Go connection system.
The Henderson PlayWood structures are thematic designs crafted from micronized copper-treated wood for non-toxic durability. Specializing in wooden ship designs, they also build custom castles, playhouses, and forts. This division of Henderson is located in Peterborough, Ontario, Canada.
Two new components have joined the Henderson freestanding play collection of swings, slides, play vehicles, play structures, climbers, motion structures, and spring toys. The Mini and Mega Geodes have an outer shell of steel beams with a complex inner structure of steel-reinforced play ropes. The Orbis focuses on fitness through a deckless route of overhead arches, beams, rings, and climbers.
Henderson has recently added a line of Mighty Shades to their designs. They also offer park amenities, such as benches, tables, bleachers, and bike racks.
1. Henderson Recreation Equipment. < http://www.henderson-recreation.com/playgrounds.asp > 17 Sep. 2010.