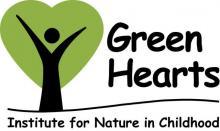 Green Hearts Institute for Nature in Childhood was a nonprofit conservation organization focused on "bringing children and nature back together" as a crucial step in raising a new generation of conservation-minded adults.1 Their work was based on research that showed frequent, unstructured childhood play in natural settings to be the most common influence on adult conservation values, while it also supported the healthy social, emotional, intellectual, creative, and physical development of children.
Unfortunately, dramatic changes in modern childhood had made this kind of "nature play" far less common than ever before in human history. To help counteract this trend and advance its mission "to restore and strengthen the bonds between children and nature,"2 Green Hearts promoted active, informal nature explorations and self-directed outdoor play. Working nationally and internationally, Green Hearts focused its messages on parents, educators, and conservationists, and employed three primary strategies: educational advocacy, consulting assistance, and the promotion of nature preschools.
Green Hearts used conference keynote addresses, workshops, podcasts, college lectures, newsletters, and other writings to advocate for the value of nature play and how it could be restored to childhood. Among Green Hearts' publications were A Parents' Guide to Nature Play and Design Principles for Nature Play Spaces in Nature Centers and Other Natural Areas, as well as nature play resources for early childhood centers.
Green Hearts also provided nonprofit consulting services and assistance to other organizations that were interested in incorporating more nature play into their programs and sites. The primary emphases of this consulting work were:
Conceptual design for children's play spaces that emphasized authentic interactions with natural habitats and materials; and
Business planning and design assistance for nature preschools, which were licensed early childhood centers where the enrolled children enjoyed daily play and explorations in natural settings.
Green Hearts also helped organizations establish policies and procedures for nature play and related safety concerns.
Green Hearts had a long-term goal to develop and operate its own network of nature preschools, starting near their home base in Omaha, Nebraska. These nature preschools would serve as the core program within small "children's nature centers" that were entirely designed around the interests and needs of children - an approach common in children's museums but missing in nature centers. Green Hearts envisioned child-scaled landscapes that allowed "collecting, running, digging, climbing, and hiding, as well as more quiet pretend play."3 Combining a "whole child" approach to early childhood education with frequent submersion in the natural world, these preschools would nurture life-long bonds with nature while simultaneously enhancing the healthy development of children, including "the curiosity and joy that should pervade all education."4
Green Hearts' efforts utilized best practices in environmental education, child development, naturalistic landscaping, and conservation design – all with the primary aim of fostering more positive societal values about the environment. Their ultimate goal was to "find ways to put nature back into children's hearts, not just into their brains. Nature play was the key to this challenge."5
Most of Green Hearts' services were delivered by veteran environmental educator Ken Finch, who founded Green Hearts in November of 2005. Ken's background included a master's degree in environmental education, a bachelor's degree in sociology and psychology, and more than 35 years of management and teaching experience with nature centers, children's museums, and nature preschools. He was a past president of the Association of Nature Center Administrators. Now semi-retired Ken continues to work closely with the nature center profession.
Green Hearts ended its operations in 2015. 17 Jan. 2017." href="#footnote6_edmmyx4">6
1. "Welcome to Green Hearts!" Green Hearts Inc. < http://www.greenheartsinc.org/ > 21 March 2012.
2. "Media Information." Green Hearts Inc. < http://www.greenheartsinc.org/Media_Information.html > 21 March 2012.
3. Finch, Kenneth H. "Creation of a Play-Focused Children's Nature Center." US Play Coalition. < http://usplaycoalition.clemson.edu/resources/articles/Play_Summit_Abstracts.pdf > 21 March 2012.
4. "Nature Preschools." Green Hearts Inc. < http://www.greenheartsinc.org/Nature_Preschools.html > 21 March 2012.
5. "What is Nature Play?" Green Heats Inc. < http://www.greenheartsinc.org/Nature_Play.html > 27 May 2012.
6. "About Us." Green Hearts Inc. < http://www.greenheartsinc.org/About_Us.html > 17 Jan. 2017.