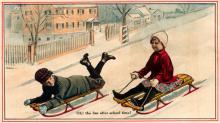 Speeding down a snowy hill on a Flexible Flyer snow sled has been a winter activity enjoyed by children since the 1880s. The Flexible Flyer continued to be sold for over 100 years with little change from its basic design, and the iconic sled is still highly sought after by young and old alike.
In the late 1800s, sledding was commonly called coasting, and toboggans were the traditional mode of travel. The wooden toboggans were made of thin hardwood boards that were curved in a "J" shape at the front. The flat bottom of the traditional toboggan sat directly on the snow and could accommodate a single rider or a group of children. The front rider would attempt to control the direction of the toboggan by using a foot to drag in the snow on either side, which did not prove to be very efficient in dodging obstacles.1 To address the problem of steering a sled, a young farmer and inventor took on the challenge.
Samuel Leeds Allen (1841-1918), the inventor of the Flexible Flyer, grew up in Philadelphia, Pennsylvania, in a prominent Quaker family. His family moved to New Jersey where Samuel worked on his father's farm after graduating from a Quaker boarding school in 1859. His tinkering with farm tools led him to invent agricultural tools that resulted in almost 300 patents in his lifetime. He established the S.L. Allen Company to manufacture his inventions and built a successful business.2
He began designing a sled that could be controlled with the hands. His early models could hold six to eight riders, and had the unique names of Phantom, Fleetwing, and the Aeriel. None of these went into commercial production, but they helped Samuel refine his design principles for future creations. He did manufacture the Fairy Coaster in 1888, but the price of $50 for his deluxe model with padded seat made it difficult to sell.3
Some of the typical designs of other sled makers had a pair of fixed wooden runners with a third steering rudder attached to a handle that could pivot. Samuel's Flexible Flyer design had a pair of runners that were weakened in the middle that would act as a hinge to permit the front portion of the runners to pivot for steering. The front pair of runner struts were attached to a crossbar that floated relative to the seat, which permitted the runners to flex sideways. This made steering much easier than the competitors' designs, and the Flexible Flyer was patented in August of 1889.4
The Flexible Flyer went into production at the S.L. Allen Company. Samuel used his sled manufacturing to keep his employees busy during the off season of making agricultural tools. Sales were initially slow until Samuel had his salesmen change from marketing to retail farm implement stores. Once the toy departments of Wanamaker's and R.H. Macy Company department stores carried the sleds, sales began to soar. By 1915, sales reached 120,000 for the year with nearly 2,000 sleds sold in one day.5
The popular Flexible Flyer continued to be produced by the S.L. Allen Company until the company was sold to Leisure Group of Los Angeles, California in 1968, who manufactured the sleds in Medina, Ohio. Eventually a group of investors purchased the sled manufacturing operations in 1973 and continued to manufacture the sleds under the name of Blazon Flexible Flyer.6 Flexible Flyer vintage models are highly desirable to collectors.
1. "Sledges and Toboggans." Active Outdoors. < http://www.activeoutdoors.info/activeoutdoors/Article111.html > 15 Dec. 2011.
2. Kimball, Herrick. "S. L. Allen & Planet Jr." Anyone Can Build A Planet Whizbang Wheel Hoe. < http://planetwhizbang.blogspot.com/2009/05/s-l-allen-planet-jr.html > 15 Dec. 2011.
3. Ryan, David B. "History of Antique Flexible Flyer Sleds." eHow.com. < http://www.ehow.com/about_5087180_history-antique-flexible-flyer-sleds.html > 15 Dec. 2011.
4. "Vintage Flexible Flyer Snow Sled." Vintage Winter. < http://www.vintagewinder.com/products/vintage-flexible-flyer-snow-sled > 15 Dec. 2011.
5. Op. cit., Ryan.
6. Op. cit., Ryan.