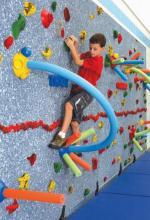 As part of the PlayCore family, Everlast Climbing Industries designs and manufactures indoor and outdoor climbing walls and handholds for all ages. They believe that "Climbing builds overall wellness, which consists of physical well-being such as strength, flexibility, and coordination integrated with emotional and intellectual characteristics such as problem solving, patience, perseverance, and courage." In short, "climbing strengthens the body, challenges the mind and encourages the spirit."1
Tim Sudeith created Everlast Climbing in 1991 when he began making indoor rock climbing walls and climbing hand holds in Chicago, Illinois. Six years later in 1997, the company relocated to St. Paul, Minnesota.2 Later the company headquarters moved outside St. Paul to Mendota Heights, Minnesota.
In 2006, Everlast Climbing developed WeeKIDZ, an early childhood climbing wall which includes a Red-Relief Line safety feature and a magnetized surface educational feature.3 The "tendon friendly" grasps are color coded to allow route customization for different difficulty levels. This traverse wall joins their regular traverse walls, top rope climbing walls, freestanding climbing walls, and specialty climbing walls.
Everlast Climbing became part of PlayCore, a manufacturer of play and recreational equipment in 2008. Tim remained General Manager and the company continued to design and innovate. As of 2012 they have been awarded 11 patents4 for such items as a double mounted hand hold, a transverse obstacle course, and a mat system that doubles as a wrap and lock system for unused walls.5
For team building activities Everlast Climbing offers challenge activities that help develop communication, cooperation, leadership, problem solving, teamwork, and positive risk taking. Children work together for such challenges as Dinosaur Egg Transfer, Sinking Raft, Memory Maze, and Meteorite Mission.6
NatureRocks, outdoor climbing boulders and nature play pieces, were introduced in 2009, a StartFit line of fitness products was launched in 2010, and the Spectrum Aquatics line of commercial pool equipment was also added in 2010.
As they began to expand to active recreation beyond climbing walls in 2010, they renamed their division of PlayCore: EverActive Brands. As such they continue their mission of "inspiring, engaging, and enabling physical activity."7
1. Sudeith, Tim and Kevin. "Lifetime Sport Promotes Overall Wellness and Helps Meet MN Profile of Learning." Everlast Climbing Industries. < http://www.traversewall.com/article_lifetime_activity.shtml > 21 May 2012.
2. Spencer, Anne-Marie. Personal Correspondence to Playground Professionals. 15 May 2012.
3. "Early Childhood Climbing Walls." Everlast Climbing Industries. < http://www.traversewall.com/products/weekidz_traverse_wall.shtml > 10 June 2012.
4. Mrvos, Mertyce. Personal Correspondence to Playground Professionals. 22 May 2012.
5. "Press Releases." Everlast Climbing Industries. < http://www.traversewall.com/press_releases.shtml > 10 June 2011.
6. "Team-Building Resources." Everlast Climbing Industries. < http://www.traversewall.com/products/team_building_resources.shtml > 10 June 2011.
7. Op.cit., Mrvos.