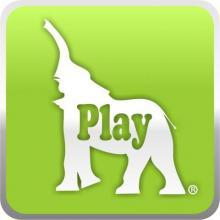 Elephant® Play was founded in 1994 in Montreal, Canada, by Serge Morin and Yvan Cinq-Mars. Combining their talents to design playground equipment, their goal was to develop new and innovative post and deck systems that offer products that entice children to move, increase their play value, and still be safe and accessible.1 Originally named Techno Playground Equipment, the Elephant® Play trade mark was introduced in 2007 after market confusion with a similar name.
Serge's background in industrial designing includes a degree in Environmental Design from the University of Quebec in Montreal (UQAM) and experience with safety standards, architecture, and management. He was awarded the Montreal Institute of Design's Canada Prize for Research for his development of commercial playground equipment in 1996.2
Yvan's background in product engineering includes experience in automation, quality assurance, and management. He has developed products for Rolls Royce and Heroux-Devtek, an aerospace and industrial company.
By 1999, Serge and Yvan introduced a playground line based on dynamic movement, group play concepts, and accessibility for children of all abilities.3 All of Elephant®Play's equipment was designed to accommodate large capacities of kids to encourage social play. An example is the Elephant®Play swing, which can hold four children due to its bowl shape, including children with physical challenges.
Elephant®Play has three main product lines: Rotating Structures, Swinging Equipment, and Bouncing Play Structures. Reinventing the merry-go-round with the latest new Spinneround, Elephant®Play's rotating structures also include rotating nets, dishes, baskets and tops. Besides the single, double, and triple Elephant® Swings, Elephant®Play also offers the Swinging Funnel. The Bouncing Play Structures combine a bouncing mat and net structures, which introduce the health benefits of rebounding along with climbing.4
The Elephant®Play equipment is a blend of European design and strict North American playground safety considerations. Utilizing a sealed internal roller system for their rotational equipment and a detachable cable joint for their net structures, Elephant®Play has minimized maintenance and repair issues.5
Climbinet was introduced in 2010 as a new brand of affordable climbing structures.
Elephant®Play is a member of the International Play Equipment Manufacturers Association (IPEMA) and the National Recreation and Park Association (NRPA).
1. "Elephant Play." Communication with Playground Professionals. 9 May 2011.
2. "About Elephant Play: Commercial Playground Equipment Company Profile." Elephant Play. < http://www.elephantplay.com/playground-equipment/about-commercial-playground-equipment-company-elephantplay.php > 20 April 2011.
3. "Accessible Playground Equipment and Play Value." Elephant Play. < http://www.elephantplay.com/playground-equipment/play-value-accessible-playground-equipment.php > 16 May 2011.
4. "Bouncing Play Structures." Elephant®Play. < http://www.elephantplay.com/playground-equipment/bouncing-play-structures-healthy-play.php > 20 April 2011.
5. "Elephant Play Playground Equipment and Play Structure Maintenance." Elephant Play. < http://www.elephantplay.com/playground-equipment/playground-maintenance-on-playground-equipment-play-structure.php > 16 May 2011.