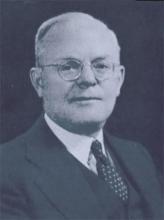 Charles H. English was a recreation leader in the early twentieth century who was known for being resourceful and innovative in creating recreation programs, for seeing the programs successfully implemented, and for gaining popular support for the programs through effective publicity. He was a popular speaker and teacher partly due to his novel approach to the topics and partly because "he emphasized the warmly human side of life."1
Raised and educated in Chicago, Illinois, Charles attended first the Chicago Y.M.C.A. College, later known as the George Williams College, and then pursued further studies at Chicago University and Northwestern University.2 In 1910 he became a playground director within Chicago's West Park Commission. After three years he became a director of a park in the South Park jurisdiction in Chicago.
In June of 1915 Charles moved to Omaha, Nebraska to become their first superintendent of recreation. Within a few months he had five indoor recreation centers established, even though there was considerable resistance to an "out of town" expert. After further obstacles at the board level, Charles resigned in December of 1916. The local Rotary Club, impressed by his leadership, asked him to lead the city's Boy Scout program.
When the War Camp Community Service commission was formed in 1917, Charles was involved, eventually serving as national executive officer from 1918 to 1920.3 As such he was over the recreational needs of all state side soldiers. After World War I he served another two years with the Community Service organization which extended this community recreation movement beyond the war years.
Charles moved to Wilkes-Barre, Pennsylvania in 1922 to be their recreation executive and to assist with the Wyoming Valley Playground and Recreation Association. Serving Wilkes-Barre and 18 outlying communities, the Association was one of the first district recreation programs involving both a central urban center and surrounding rural communities.4 During this time playgrounds were established for the first time in the district.
Chicago's Board of Education established their Recreation Bureau in 1924 and chose Charles to be director. Back in Chicago, he had the opportunity and support to "try out new ideas, conduct studies, and experiment with leadership methods."5 Some of these ideas included procedures to qualify recreation leaders and rank their service, opening "baby" playgrounds for younger children, studying playground accident incidents, and surveying children for what they wanted in a playground. That later idea, the 1925 study "What Kind of Playground Do Children Want?", was an unusual approach at that time.
During the three years that Charles led the Recreation Bureau he established a wide range of recreation activities for both boys and girls. Some of these events and groups included snow modeling, model boats and planes groups, knot-hole club, playground rodeo, junior police, and painting stained glass windows.6 Whittling contests and music activities were also popular.
Meanwhile, the Recreation Bureau in Philadelphia's Department of Public Welfare was not being effective according to the Playground and Recreation Association of Philadelphia. In 1927 they appointed Charles as their executive secretary to work with the city Bureau through leadership assistance and through providing examples of quality recreation activities. Over the next 18 years, Charles met these challenges and laid the foundation for Philadelphia's recreation bureau reorganization which occurred soon after his retirement in 1945.7
Shortly after arriving in Philadelphia, the effects of the American Depression began to be felt and Charles was involved in providing recreation equipment and activities for the 12,000 "homeless" men in temporary shelters. The following year in 1928, he initiated the "Christmas Toy Shower" which distributed 50,000 "good-as-new" toys to children through 132 agencies.8 These activities and a day camp were accomplished with volunteers which Charles organized through business contracts, another innovative approach. Volunteers signed a formal contract and were reported back to their home organizations if they failed to fulfill their commitments.
Charles' leadership was also utilized during the Depression by directing the recreation for the Federal Emergency Relief Administration in Pennsylvania, the forerunner of the Works Progress Administration, which in turn became the Works Project Administration (WPA).9 He also assisted the director of the Pennsylvania National Youth Administration, another branch of the WPA. By 1934 he was working half of his time as the Supervisor of Recreation and Leisure Time Activities for the Pennsylvania Emergency Education Council. He believed that recreation leaders needed to utilize the facilities and programs developed by the WPA in order to help "the unemployed acquire self-respect, vocational adjustment, social integration, and sustained employment."10
Beyond his assistance during the Depression, while in Philadelphia Charles organized and publicized hobby groups including the Philadelphia Model Airplane Association,which held training sessions, competitions, and educational demonstrations. As to playgrounds, he organized the campaign to turn neighborhood vacant lots into neighborhood playgrounds. The first year they established 38 playlots and the Philadelphia Playlot Federation was formed.11
For younger children he initiated the "tot-lot" playgrounds, also known as the "key-hole" playgrounds since only children who could stand tall and enter through the keyhole entrance gate could play. For home play he developed portable kits to loan to homes and had a training course in home play for children ages ten to thirteen.12
During World War II, Charles served as the Recreation Coordinator for Philadelphia's Council of Defense. As such, in 1941, he called for books and magazines through the "Literature Shower for Servicemen" program. The resulting 200,000 items were distributed at the Philadelphia Navy Yard and army camps nearby.13 He also participated in creating the U.S.O. Labor Plaza in Philadelphia, considered the largest outdoor center for servicemen and women in the East.
For ten years Charles lectured on his experiences at the University of Pennsylvania, Temple University, and Philadelphia School of Social Work. He also served as the first Vice President of the American Recreation Society.
Throughout his career, Charles lectured on recreation programs and public relations at the National Recreation School of the National Recreation Association (NRA), often spoke at the National Recreation Congress events, and contributed to Recreation, the NRA magazine. He served on the NRA Committee on Apparatus Standards and participated in their 1929 report, which became the standard guide on playground apparatus.14 The NRA service awards established in 1926 were another of Charles' ideas to celebrate those who gave meritorious service in the recreation field.
1. Butler, George D. Pioneers in Public Recreation. Minneapolis, MN: Burgess Publishing Company, 1965. p. 131.
2. Op.cit., Butler., p. 126.
3. Op.cit., Butler., pp. 126-127.
4. Op.cit., Butler, pp. 127-128.
5. Op.cit., Butler., p. 128.
6. Op.cit., Butler., pp. 128-129.
7. Op.cit., Butler., p. 132.
8. Op.cit., Butler., p. 129.
9. WPA. Pennsylvania: A Guide to the Keystone State. Philadelphia, PA: University of Pennsylvania, 1940. p. 85.
10. Op.cit., Butler., p. 130.
11. Ibid.
12. Op.cit., Butler., pp. 130-131.
13. Op.cit., Butler., p. 131.
14. Op.cit., Butler., pp. 131-132.