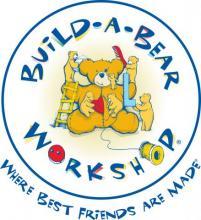 Build-A-Bear Workshop® is a global company that offers an interactive make-your-own stuffed animal retail-entertainment experience.1 Guests who visit a Build-A-Bear Workshop store enter a recognizable and distinctive teddy bear themed environment. The experience is extended through a correlated online virtual world and entertainment destination, Bearville.com™.
Maxine Clark conceived the idea for Build-A-Bear Workshop while shopping with a 10 year old friend who couldn't find the stuffed toy that she liked. The friend, Katie, suggested they make one, and Maxine expanded that vision to providing the means for many others to make stuffed toys just the way they like them. In 1997, she opened the first Build-A-Bear Workshop in the Saint Louis Galleria in St. Louis, Missouri.2 A year later, the growing retail chain had a mascot: Bearemy, who stands "9 ½ paws high" and gives bear hugs at all their store openings and major events.3
Guests at the Build-A-Bear Workshop are assisted by Bear Builder associates through the eight stage process: Choose Me, Hear Me, Stuff Me, Stitch Me, Fluff Me, Dress Me, Name Me, and Take Me Home. It begins with choosing the type of stuffed animal and there are more than 30 varieties, including teddy bears, kitties, dogs, bunnies, etc., which they then further customize through selecting a sound chip with giggles, animal sounds, standard messages, or their own customized 10-second message. Step three involves a very special step that is unique to Build‑A‑Bear Workshop. Each Guest selects a small satin heart – a Build‑A‑Bear Workshop trademark, adds to it his or her own love and wishes, and carefully places it inside their new furry friend and stuffs their friend to "just the right amount of huggability."4
Before their animal friend is stitched shut, the Bear Builder associate adds a unique bar code which serves to be both a lost friend locator and a door to the online adventures at Bearville.com. After the friend's final seam is stitched, they are fluffed, dressed in current fashions, and accessorized. Step seven involves giving the friend a name to be recorded on their official birth certificate and the final step involves placing their new friend in a Cub Condo carrying case which doubles as a travel carrier and home.
Once at home the adventure continues online where children create an online character, play games to earn Bear Bills, purchase furniture and accessories, and trade items. Since 2011, Bearville.com has also included entertainment content for children and families, such as celebrity interviews, craft ideas, and news on fashions, TV, movies, and music.Unlike most standalone websites, Bearville.com is incorporated into Build-A-Bear Workshop stores and the Build-A-Bear™ mobile App. The Build-A-Bear mobile App offers fun, engaging games for kids to play on the go, and alerts to help moms know about new furry friends and promotions going on at Build-A-Bear Workshop. In 2012, Build-A-Bear Workshop launched their mobile website that has allowed Guests access to easy shopping on-the-go on their smartphone or tablet. The company is continuing to develop new apps for the iOS and Android platforms. Additionally, Build-A-Bear Workshop communicates with Guests via text messages delivered through the Vibes Catapult platform. Through this channel, Build-A-Bear Workshop shares news on current products, promotions, and brand engagement materials.
A new store design has incorporated the best of digital technology with the love of a teddy bear into select stores across North America. Signage at the front of the store uses Microsoft Kinect technology and interactive touch elements that engage the children with their bears. Also a new station called Love Me has been added, which allows the children to customize their furry friends with personality traits displayed as emoticons on an interactive table.5
From their beginning in St. Louis, Build-A-Bear Workshop has established more than 400 retail sites throughout the United States and internationally through both company-owned stores and franchised agreements.6 At these locations, through the Build-A-Party program, guests may plan and customize a group workshop experience for a birthday party, family reunion, company outing, field trip, or scout troop.
Build-A-Bear Workshop believes in the teddy bear philosophy of being good people and good bears.  Throughout its history the company has given Guests a voice to support causes that are important to them, helping children, families, animals and the environment. Since the company's inception, Build-A-Bear Workshop has donated more than $40 million to these causes.    
In 2001, Build-A-Bear Workshop began partnering with Ronald McDonald House, UNICEF, the USO, firefighters and police officers, adoption agencies, and children's hospitals to place donated Stuffed with Hugs teddy bears with children in need. And conversely, to celebrate children who are "making a difference and helping others" they introduced the Huggable Heroes program in 2004. Yearly young people who are impacting their neighborhoods, schools, or communities are nominated with the selected "heroes" receiving a donation to their cause and an educational scholarship.
Through their private Build-A-Bear Workshop Bear Hugs Foundation, Build-A-Bear Workshop offers special stuffed animals to benefit a variety of causes, such as the World Wildlife Fund, children's health and wellness causes, First Book and literacy organizations, and domestic pet programs. They also offer guests the option to add $1 or more to their retail or internet sales total to benefit the Build-A-Bear Workshop Foundation, a public foundation that supports children, families, animals, and the environment.
In addition to traditional mall retail spaces, Build-A-Bear Workshop stores are also located in stadiums (featuring team specific items), the St. Louis Zoo, and select Rainforest Cafes. Since 2006, they have offered a similar Build-A-Dino experience at T-Rex Cafes, the Saint Louis Science Center, and within the larger Build-A-Bear Workshops in Myrtle Beach and New York City. In March 2011, the first Build-A-Bear Workshop store in a hospital was opened at Cook Children's Medical Center in Fort Worth, Texas.
In 2001, the company was recognized as The National Retail Federation's Retail Innovator of the Year, and in 2005 they were the National Association of Small Business Investment Companies' Portfolio Company of the Year. The iParenting organization honored Build-A-Bear Workshop as the 2005 Media HOT Award Winner and three years later they received the 2008 iParenting Media Award.7 For their web presence, they received the 2009 WiredKids "Best of the Web" Award from WiredSafety.org, and for their corporate policies Build-A-Bear Workshop has been recognized by Fortune Magazine as one of the 100 Best Companies to Work For in 2009, 2010, 2011, 2012, and 2013. The company has also received the Good Housekeeping Seal of Approval.
Whether through their retail stores, online store, or web adventure site, Build-A-Bear Workshop is realizing their mission to create "a safe place where kids can play, express their creativity and use their imaginations."8
1. "Fact Sheet: Build-A-Bear Workshop, Inc." Build-A-Bear Workshop US. < http://www.buildabear.com/html/en_US/aboutus/ourcompany/factSheet.pdf > 17 June 2013.
2. "The Beary Beginning." Build-A-Bear Workshop US. < http://www.buildabear.com/shopping/contents/content.jsp?catId=100003&id=100004 > 17 Aug. 2012.
3. "Our Mascot, Bearemy." Build-A-Bear Workshop US. < http://www.buildabear.com/shopping/contents/content.jsp?catId=100003&id=100005 > 17 Aug. 2012.
4. Op.cit., "Fact Sheet."
5. Op.cit., "Fact Sheet."
6. "Company Profile." Build-A-Bear Workshop US. < http://phx.corporate-ir.net/phoenix.zhtml?c=182478&p=irol-homeProfile > 17 Aug. 2012.
7. Op.cit., "Fact Sheet."
8. Op.cit., "The Beary Beginning."