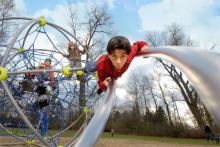 Beginning in Berlin in 1865 as a manufacturer of steel cables for the Berliner elevator industries, Berliner Seilfabrik entered the playground industry in the 1970s with their world famous ropes made into play climbing structures. With nearly 40 years in the play equipment industry, Berliner Seilfabrik GmbH & Co. established the subsidiary, Berliner Seilfabrik Play Equipment Corporation in 2008. The company is now headquartered in Greenville, South Carolina.
From the first net structures developed in the early 1970s, Berliner Seilfabrik has gained competence in the fields of rope production and creative design to produce a myriad of configurations as play structures. Working with a modular system of "tangle web" cable designs, Berliner Seilfabrik has made the focus of their playscapes to be movement through climbing, hanging, and swinging.1
Each year they produce over 437,000 yards of cable for recreational purposes. Concerning playgrounds the cables are used for products which are named for their key visual components, such as the Geos, Pentagodes, UFOs, and CombinNations, which are various configurations of climbing cable nets. More than 3,000 different variations have been designed in 40 years.2
Berliner Seilfabrik holds many patents for their innovative designs and is on the German, European, and American Standard Committees for sports and recreational equipment. Among many other awards, including several Red Dot Design Awards, Berliner Seilfabrik was awarded the Good Design Award of the Chicago Athenaeum Musuem of Architecture and Design for their Playpoints "Eddies" created by their subdivision Urban Design Berlin. These Playpoints components are stand alone stainless steel play "sculptures" which are "climbers or rockers or twisters."3 "Eddies" are one of the many designs that expand Berliner Seilfabrik's play space designs beyond their cable net components and combinations.
1. "Made in Berlin." be Berlin. < http://www.be.berlin.de/en/ich-bin-ein-berliner/partners/berliner-seilfabrik/ > 31 Dec. 2010.
2. "Products." Berliner Seilfabrik. < http://www.berliner-playequipment.com/p-en/products/ > 31 Dec. 2010.
3. "About Us." Urban Design Berlin. < http://www.urbandesignberlin.com/about-us/ > 31 Dec. 2010.