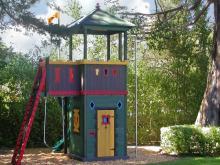 Coming from a diverse background of political science, English, writing, remodeling construction, painting, and sculpturing, Barbara Butler founded Outer Space Design in 1986. With Robert Forrest they specialized in artistic backyard designs, largely building unusual decks. A year later, while working for Bobby and Debbie McFerrin, they were asked to also design an unusual play structure for the McFerrin's two sons. That request shaped and refocused Barbara's company to combine building outdoors with wood using artistic designing and satisfying families who want to play together.
Over the next nine years, Barbara combined her sense of play and art with the realities of the backyard space available to create unique family playgrounds. In 1996 she was joined in her company by her fiancé Jeffrey Beal. Her brother James Butler, who was a general contractor in Los Angeles, often would join them in building play structures throughout America.
However, the realities of working out of doors during the winter prompted them to establish an indoor workshop in South San Francisco in 1997. Using a modular building system for their unique designs, they were able to work longer, warmer, and happier and still deliver and install their unique play structures.
Bringing corporate experience to the family business, Suzanne Butler, Barbara's sister, became a partner and co-owner in 1999. At that time, the business incorporated as Barbara Butler Artist-Builder, Inc. In the ensuing ten years of active business, they have custom designed, built, and installed over 400 play structures. Their custom creations have been featured in numerous magazines, books, and television shows. And their team of creators has expanded from the original four to fourteen.
A "Barbara Butler Play Original" is handmade from redwood lumber which has been smoothed to prevent splinters. All sharp edges are rounded and all doors and shutters have a 1/2" gap to protect little fingers. To preserve the wood, bright, non-toxic stains are used inside and out. The further beauty of the play structures comes in the fort, clubhouse, playhouse, or tree house designs and the many details: doorknockers, hand carvings, trims, mad-scientist panels, speaking tubes, pulley boxes, mailboxes, jail bars, secret escapes, hideaways, shutters, peepholes, towers, safes, water cannons, flag poles, Dutch doors, trapeze bars, and zip lines. They also manufacture indoor and outdoor children's furniture.
Today most of their play spaces fit one of four standard categories:  playhouses, play forts, theaters, and outside structures for grownups. These basic favorites can be customized by choosing the size, the colors, and any play accessories.
The Robin Hood's Forts are two story forts that include features like rock climbing walls, fire poles, slides, rope net ladders, swings, jails, secret escapes, and flag poles.
The "King Forts" and intricate "Big Forts" are former custom-designed play spaces that can be reordered to fit any backyard shape and finished in the family's color choices. These larger designs are "multi-towered, multi-tiered, outdoor adventure experiences that eliminate the need to add on another room to the house."1
The Custom Design option is especially geared to but not limited to creating tree houses since each tree is unique. Often the custom designing begins with a visit from Barbara who walks the yard and gets to know firsthand the unique requirements. As to what goes in the design, Barbara says, "A great play structure has an easy way up and a hard way up and, of course, quick ways down. I like to create "loops" of play that keep the kids running till they wear themselves out."2 An anchor to her designs is the tower and then she layers in challenges for the younger and older children of the family, clubhouse space, bouldering, zip lines, bridges, and countless details.
Though the company has traditionally built for families in their backyards, they are now offering play structures for public places. And they have a new line of adult outside structures, such as sheds, cabins, gazebos, cottages, teahouses, retreats, and storage garages.
Yet another new aspect of Barbara Butler Artist-Builder, Inc. is the play structure construction plans for sale as well as the BIY (Build it Yourself) parts and kits. This drops the prices, but does require serious construction skills to complete.
They also get involved with as many kid-related fundraisers as they can,3 such as making playhouses for local school auctions, the Bay Area Discovery Museum, and the Tony Hawk Foundation. They also often make kid-sized furniture sets for auctions to help more organizations like the Child Advocates Program.
Though the list of celebrity customers, magazine features, and TV interviews is long, they contribute their success to "the uniqueness of our designs, the high quality of our craftsmanship, our commitment to safety, our talent for color, and our joy of play."4