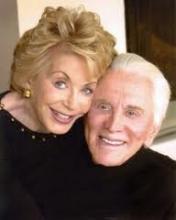 When Anne Douglas saw the deplorable conditions of the school playgrounds in the Los Angeles area, she knew that she had to do something to help. So, in an effort to revitalize the playgrounds, she, along with her husband Kirk, funded a $1 million contribution to the Anne and Kirk Douglas Playground Award. They started this grant program in 1997 with the help of Anita May Rosenstein through the Wilbur May Foundation, The Annenberg Foundation, and Richard Riordan, a former mayor of Los Angeles, through the Riordan Foundation. Together, they have restored and dedicated over 400 school playgrounds in the Los Angeles area.
The mission of the Douglas Playground Award is to encourage schools to refurbish playgrounds and rejuvenate school grounds by partnering with others in their community. This is accomplished by awarding a matching grant to schools that qualify. The schools must show that half the budget that they need to upgrade their playground has been secured. This can be accomplished through funds contributed by other individuals, businesses, funds, or government organizations. They also accept in kind donations of labor or materials. The Douglas Playground Award is administered by the Los Angeles Alliance for Student Achievement.1
Some schools in the Los Angeles area, if there is a playground, have crumbling asphalt, over forty year old unsafe structures, and little or no green space. When children don't have playgrounds at their school or they are inadequate, children learn that play is not of any value and that physical exercise is not important.2
The President of the L.A. Board of Recreation and Park Commissioners, Steve Soboroff, believes that in the past, playgrounds were not considered important, and now they are the focus of revitalizing schools. He said "Anne and Kirk are role models for us all with these playground awards."3
Anne and Kirk stepped down from this project in 2008 after their 401st playground dedication. At that time, Kirk encouraged others to take up the mantle. He believes that the program should encompass the entire country, and he says, "I think every individual should take a more personal action about their surroundings."4
1. "Anne & Kirk Douglas Playground Award." L.A. Alliance for Student Achievement. < http://www.laalliance.org/playground.htm > 4 Sep. 2004.
2. Ibid.
3. "Anne and Kirk Douglas to Open New Playgrounds." L.A. Learning Exchange. < http://www.lalc.k12.ca.us/essay/11_24_99/douglas.html > 4 Sep. 2004.
4. "For Kirk Douglas, play's the thing." USA Today, May 27, 2008, p. 6D.