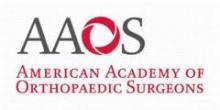 The American Academy of Orthopaedic Surgeons (AAOS) was founded at Northwestern University in 1933 by seven orthopaedic surgeons in order to share orthopaedic knowledge. The name orthopaedics comes from the Greek root ortho (straight) and pais (child), because in the beginning the specialists treated children with spine and limb deformities. A bent tree that has been braced is the traditional symbol of orthopaedics. The AAOS mission statement is to "champion the interests of patients and advance the highest quality musculoskeletal health."1  They do this through education, advocating for better patient care and informing the public about the science of orthopaedics.
To become a member of the AAOS, physicians must complete five years of an approved residency in orthopaedics and submit to stringent membership review processes. The orthopaedic surgeon is concerned with the diagnosis, care and treatment of musculoskeletal disorders, which could include the bones, joints, ligaments muscles, and tendons.2
Orthopaedic surgeons are often the first physicians to treat children sustaining playground-related injuries. Therefore, the AAOS is committed to raising the public's awareness of playground safety. In cooperation with Goodwill Communications, they ran many multimedia public service campaigns that focused on the importance of daily physical activity for people of all ages and playground safety.
Each year, according to the Centers for Disease Control and Prevention (CDC), more than 156,000 children under the age of 14 sustain injuries on public playgrounds and that 45% of the injuries are severe. Approximately 79% of the injuries are caused by falls to the ground. Often children will stretch out their hands trying to protect themselves and will sustain a fractured elbow (supracondylar fracture of the humerus), which is the most common playground injury that requires surgery. A fracture of the tibia (shinbone) in small children has been caused by a child's leg becoming stuck on the way down a slide. There are also injuries from sharp edges and impact with stationary equipment.
The AAOS states that there are three major factors that are causes for playground injuries. They are:
The Playground Surface
The number and severity of injuries from falls could be reduced by using softer surfaces, such as wood mulch or chips, shredded tires, or sand.
The Playground Design
Zones should be separated to avoid overcrowding.
Sight lines should be clear.
Pathways should provide easy traveling between structures.
There should be separate areas for active and quiet play.
There should be separate areas for younger and older children.
Around equipment there should be adequate space for access and egress.
Equipment Installation and Maintenance
Playground equipment should be inspected regularly to identify any deterioration, loosening, rust, or corrosion.
All playground equipment should meet the U.S. Consumer Product Safety Commission guidelines.
Equipment should be properly installed according to the manufacturers' spacing and installation instructions.3
Because of the high injury rate, the Academy has published a playground safety brochure for children giving them tips on how to stay safe, such as:
Play only on dry equipment, wear shoes and sunscreen.
On Slides: Always slide alone sitting down and facing forward and move away from the slide bottom as soon as you reach the ground.
On Swings: Always swing singly sitting down and wait until the swing stops before you get off.
When climbing, always hold onto the handrails and climb stairs slowly.
1. "Mission." American Academy of Orthopaedic Surgeons. < http://aaos.org/about/mission.asp > 3 Sept. 2010.
2. "Background." American Academy of Orthopaedic Surgeons. < http://www.aaos.org/about/backgrnd.asp > 3 Sept. 2010.
3. "Playground Safety Guide." American Academy of Orthopaedic Surgeons. < http://orthoinfo.aaos.org/topic.cfm?topic+A00313 > 3 Sept. 2010.